Deprecated
: Function get_magic_quotes_gpc() is deprecated in
/home/americanconserva/public_html/wp-includes/formatting.php
on line
4798
Deprecated
: Function get_magic_quotes_gpc() is deprecated in
/home/americanconserva/public_html/wp-includes/formatting.php
on line
4798
Once again, President Trump proved to the mainstream media how unpredictable he is and that he isn't a trained circus monkey jumping through hoops for their amusement.
Trump didn't go golfing at Mar-a-Lago wasting millions of taxpayer dollars (all assumed by the media), which was former President Obama's favorite past time when he took his multi-million dollar family vacations to Hawaii.
President Trump instead did something presidential. He and his wife, Melania, made a special trip to Walter Reed Hospital in Bethesda, Maryland, to award a Purple Heart to American serviceman Sgt. First Class Alvaro Barrientos, who lost his leg below the knee during a firefight in Afghanistan last month.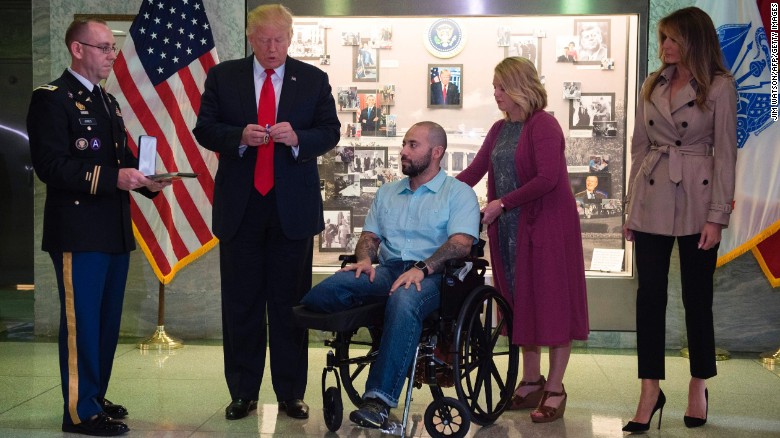 From Western Journalism:
President Donald Trump upended liberal media speculation that he would be playing golf Saturday by instead making a surprise trip to the Walter Reed National Military Medical Center in Bethesda, Md., alongside his wife, first lady Melania Trump.
While at the facility, the president reportedly bestowed a Purple Heart award — given in the name of the president to military members wounded or killed while serving — to patient Sgt. First Class Alvaro Barrientos, whose leg was recently amputated below the knee due to injuries he suffered in battle last month.
"When I heard about this, I wanted to do it myself," Trump said during a ceremony in the hospital's atrium. "Congratulations. Tremendous."
He then kissed Barrientos' wife before pinning the medal to the wheelchair-bound sergeant's shirt. Afterward, he reportedly met privately with a dozen additional service members for approximately 90 minutes.
Getting ready to visit Walter Reed Medical Center with Melania. Looking forward to seeing our bravest and greatest Americans!

— Donald J. Trump (@realDonaldTrump) April 22, 2017
Trump's gesture to recognize and thank Barrientos was criticized in social media for a poor choice of words when he "congratulated" the soldier for the award instead of thanking him for his service.
"You don't congratulate a soldier for being wounded," complained one user. "You thank them for their service, dedication, and sacrifice."
But one could surmise that thanking the soldier was the reason for Trump's visit, to begin with.
President Trump is head and shoulders above his anti-American predecessor, Barack Obama, in showing appreciation for the devotion, dedication, and sacrifices made by our men and women in uniform.
However, the social media trolls will never miss an opportunity to rag on Trump for anything. They would do well to remember the total lack of appreciation and outright contempt our soldiers received from Barack Obama! Now we see a president who will spend his weekends honoring our country's bravest instead of golfing and perfecting their game.
Source: Western Journalism
Deprecated
: Function get_magic_quotes_gpc() is deprecated in
/home/americanconserva/public_html/wp-includes/formatting.php
on line
4798