Under Obama's watch, the Veterans Administration deteriorated significantly, allowing veterans badly in need of medical attention to go without and basically ignoring them, while VA administrators persecuted whistle-blowers who dared expose their incompetence.
One of Donald Trump's campaign promises during the 2016 presidential election was to revamp the VA into something that actually addressed veterans' issues, and it looks like he's going to make good on that promise, today!
President Trump is due to sign an executive order that will create an Office of Accountability and Whistleblower Protection for the purpose of protecting those who have been persecuted by VA management for reporting administration incompetence or the abuse of veterans.
From The Daily Caller:
President Donald Trump is expected to sign an executive order Thursday establishing an office at the Department of Veterans Affairs (VA) to discipline or fire incompetent employees or managers.
The executive order, likely to be signed Thursday according to a source with knowledge who spoke with The Daily Caller News Foundation, will create an Office of Accountability and Whistleblower Protection.
The office will also protect whistleblowers who find themselves targeted by management in the course of their disclosures.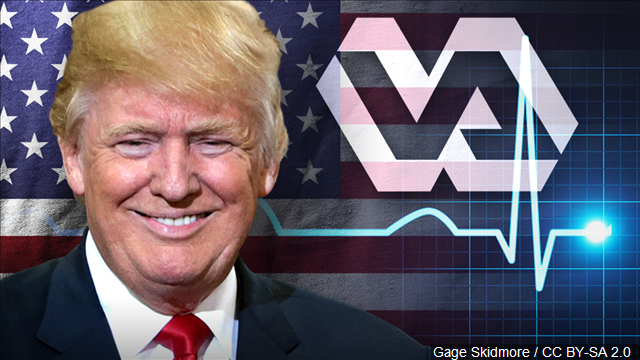 "I smiled when I heard this was happening Thursday," Brandon Coleman, a noted Phoenix VA whistleblower, told TheDCNF. "I applaud President Trump for not waiting to take action but instead continuing his push for accountability at the VA with this executive order."
"I think we have a VA Secretary in Dr. David Shulkin that wants to bring transparency to the Department of Veterans Affairs and setting up a whistleblower division is a great way to bring whistleblowers to the table instead of trying to destroy our careers, as the VA has done time and time again over the past 3 years," Coleman added. "Whistleblowers are the only ones who have continued to tell the truth at great risk to our professional careers within VA."
The VA became incompetent and corrupt under President Obama and it's too bad he couldn't have been the first "bad employee" to be fired! The fact that President Trump is determined to see the VA improved so that our veterans get the help that they need is one great big gold star for his legacy.
The legacy that the mainstream media will ignore until you-know-where freezes over!
Source: The Daily Caller