We all knew that traitor John McCain has hated President Trump from the very get-go, but I guess we're finally starting to understand how deep that hatred is.
We also all knew that McCain is furious that he lost to Obama in the 2008 election, meaning that he himself has zero chance of ever becoming president. Which is something that he's been eyeing for decades, and he ultimately came up short. To McCain, it's an offense that President Trump was able to defeat the Democrats resoundingly, not having the "credentials" of being a public office holder prior to presidency, like McCain is.
So every fiber of McCain's jealous being went into full on attack against the president, as he pulled out the big guns and said that Obama's leadership was stronger than Trump's is right now.
From Breitbart:
Anti-Trump Sen. John McCain (R-AZ) has reportedly told a left-wing newspaper that he believes "American leadership" was better under President Barack Obama than President Trump — the latest in a series of shots the failed 2008 presidential candidate has taken at his fellow Republican.
According to the Guardian, McCain was "visibly irked" when asked about comments Trump made last week in the wake of the terrorist attack in London, in which he criticized London Mayor Sadiq Khan for his response to the atrocity.
"What do you think the message is? The message is that America doesn't want to lead," McCain said. "They are not sure of American leadership, whether it be in Siberia or whether it be in Antarctica."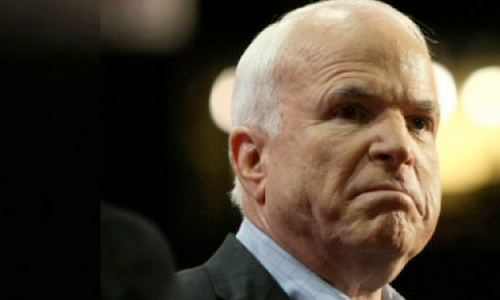 Then, when asked if America's international standing was better under Obama, McCain reportedly responded: "As far as American leadership is concerned, yes."
McCain — who lost his 2008 presidential bid against then-candidate Obama after a campaign in which he repeatedly defended Obama from his supporters' criticisms — has been an outspoken critic of Trump and has refused to tone it down since his fellow Republican took the White House.
In a recent tour of Australia, McCain told an audience in Sydney that Trump has "unsettled" allies and Americans alike.
"Other American allies have similar doubts these days and this is understandable," McCain said, according to The Associated Press at the city's university. "I realize that some of President Trump's actions and statements have unsettled America's friends. They have unsettled many Americans as well."
Naturally, I'm sure John McCain believes that he himself could do a better job than either President Trump or former President Obama. But he lost his opportunity big time – if he couldn't garner the support of the American people 9 years ago, then he is certainly not going to get any support from Americans now. Especially when he attacks the current president so viciously.
It's time for this green at the gills swamp slug to go back to Arizona!
Source: Breitbart