Deprecated
: Function get_magic_quotes_gpc() is deprecated in
/home/americanconserva/public_html/wp-includes/formatting.php
on line
4798
Deprecated
: Function get_magic_quotes_gpc() is deprecated in
/home/americanconserva/public_html/wp-includes/formatting.php
on line
4798
Deprecated
: Function get_magic_quotes_gpc() is deprecated in
/home/americanconserva/public_html/wp-includes/formatting.php
on line
4798
Deprecated
: Function get_magic_quotes_gpc() is deprecated in
/home/americanconserva/public_html/wp-includes/formatting.php
on line
4798
Deprecated
: Function get_magic_quotes_gpc() is deprecated in
/home/americanconserva/public_html/wp-includes/formatting.php
on line
4798
Deprecated
: Function get_magic_quotes_gpc() is deprecated in
/home/americanconserva/public_html/wp-includes/formatting.php
on line
4798
Deprecated
: Function get_magic_quotes_gpc() is deprecated in
/home/americanconserva/public_html/wp-includes/formatting.php
on line
4798
Deprecated
: Function get_magic_quotes_gpc() is deprecated in
/home/americanconserva/public_html/wp-includes/formatting.php
on line
4798
Deprecated
: Function get_magic_quotes_gpc() is deprecated in
/home/americanconserva/public_html/wp-includes/formatting.php
on line
4798
Deprecated
: Function get_magic_quotes_gpc() is deprecated in
/home/americanconserva/public_html/wp-includes/formatting.php
on line
4798
Deprecated
: Function get_magic_quotes_gpc() is deprecated in
/home/americanconserva/public_html/wp-includes/formatting.php
on line
4798
Deprecated
: Function get_magic_quotes_gpc() is deprecated in
/home/americanconserva/public_html/wp-includes/formatting.php
on line
4798
Deprecated
: Function get_magic_quotes_gpc() is deprecated in
/home/americanconserva/public_html/wp-includes/formatting.php
on line
4798
Deprecated
: Function get_magic_quotes_gpc() is deprecated in
/home/americanconserva/public_html/wp-includes/formatting.php
on line
4798
Deprecated
: Function get_magic_quotes_gpc() is deprecated in
/home/americanconserva/public_html/wp-includes/formatting.php
on line
4798
Deprecated
: Function get_magic_quotes_gpc() is deprecated in
/home/americanconserva/public_html/wp-includes/formatting.php
on line
4798
Deprecated
: Function get_magic_quotes_gpc() is deprecated in
/home/americanconserva/public_html/wp-includes/formatting.php
on line
4798
Deprecated
: Function get_magic_quotes_gpc() is deprecated in
/home/americanconserva/public_html/wp-includes/formatting.php
on line
4798
Deprecated
: Function get_magic_quotes_gpc() is deprecated in
/home/americanconserva/public_html/wp-includes/formatting.php
on line
4798
Deprecated
: Function get_magic_quotes_gpc() is deprecated in
/home/americanconserva/public_html/wp-includes/formatting.php
on line
4798
Deprecated
: Function get_magic_quotes_gpc() is deprecated in
/home/americanconserva/public_html/wp-includes/formatting.php
on line
4798
Deprecated
: Function get_magic_quotes_gpc() is deprecated in
/home/americanconserva/public_html/wp-includes/formatting.php
on line
4798
Deprecated
: Function get_magic_quotes_gpc() is deprecated in
/home/americanconserva/public_html/wp-includes/formatting.php
on line
4798
Now that we are getting much closer to a final determination about what's to be done with North Korea, particularly because the window of opportunity is clearly closing rapidly, and every moment that goes by is another moment that could see the launch of a nuclear warhead on the US or our allies.
Trump and his commanders in the Pacific have made many decisions already that enhance our readiness and, as General "Mad Dog" Mattis puts it, lethality. The installation of a Terminal High-Altitude Air Defense (THAAD) missile system in both South Korea and Alaska has ensured that there is some certainty that Kim Jong-un may just strike Seoul or the continental United States. It's already been determined that his primary four targets in the U.S. (through a mistakenly released photo by the North Korean government) are Washington DC, Austin, Hawaii, and San Diego.
With all this going on, one would believe that all the commanders of the US armed forces are ready and willing to throw down for their country. You'd believe that…and you'd be wrong. Apparently, one commander, Commandant Paul Zukunft, who leads the Coast Guard, has decided that there is one issue that is much more important than an imminent nuclear strike on the US. Transgenderism and the military!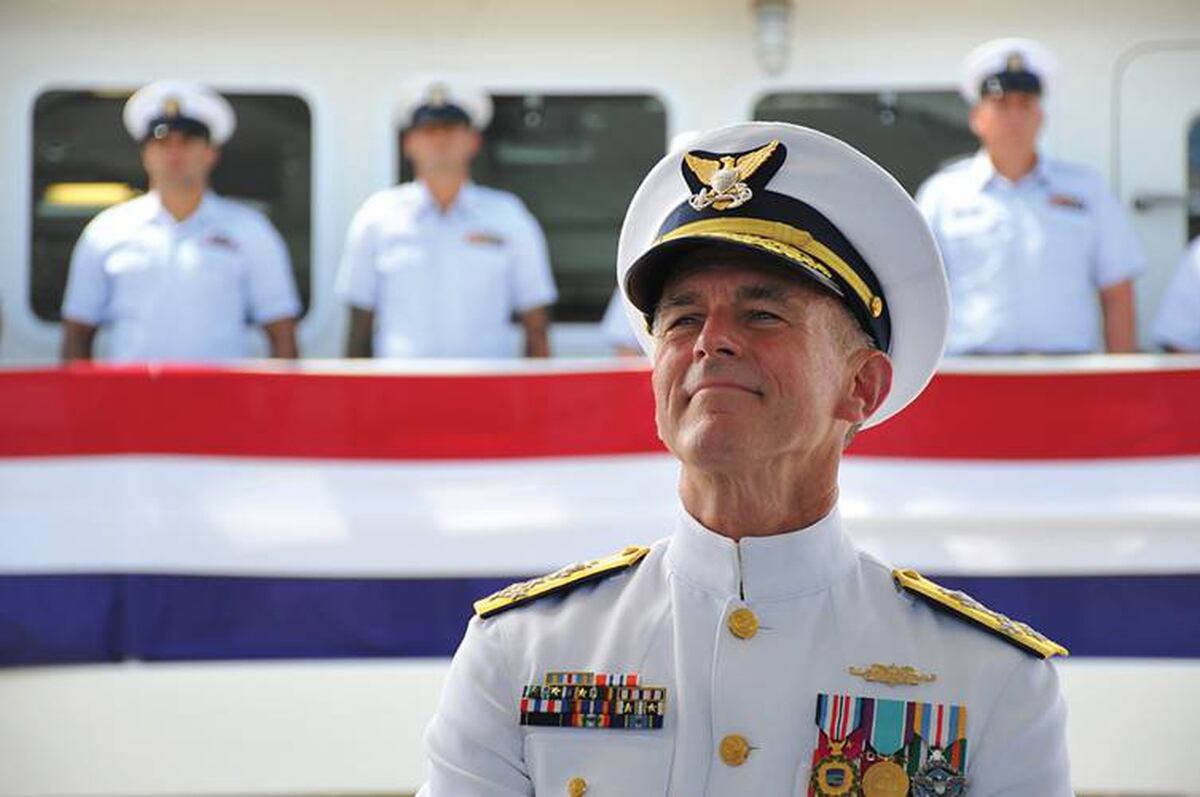 Politico:
Commandant Paul Zukunft, in remarks to a Washington think tank on Tuesday, cited the story of Coast Guard Lt. Taylor Miller, who was featured last week in The Washington Post, to express his support for transgender members of his service.
"I told Taylor I will not turn my back," Zukunft told the Center for Strategic and International Studies forum. "We have made an investment in you and you have made an investment in the Coast Guard, and I will not break faith."
The Coast Guard is part of DHS but in wartime can be transferred to the Navy by the president or Congress.
Trump, in a series of tweets last week, said that transgender men and women would not be allowed to serve in the military "in any capacity."
Following the president's announcement, Zukunft said he reached out to the secretaries of Homeland Security and Defense to consider the announcement's implications. He also said he has personally reached out to all openly transgender members of the Coast Guard to express his support.
How the president's wishes will be implemented remains unclear. Both Democrats and Republicans, including some who oppose the government paying for the health care of transgender personnel, have criticized the proposal to drum them out of the ranks in strong terms.
Pentagon spokesman Navy Capt. Jeff Davis reiterated Monday that the Defense Department hasn't received any additional guidance beyond the president's tweets last week and that it's still waiting for a formal order.
You'll note the intellectual dishonesty here by Politico writer, Gregory Hellman, too. He states in his piece that both Democrats and RINOs "have criticized the proposal to drum them out of the ranks…" There's one problem with this statement and that is…it's not true. There was a specific caveat to the announcement and that was that transgender individuals who are currently in the military WILL NOT BE DISCHARGED. The order is going to pertain to only those who will be entering the service.
I don't know why I thought that Politico would be doing a story with some factual meat on its bones. They're just another brick in the wall of that fanatical Fake News Industrial Complex that is the Mainstream Media.
Source: Politico
Deprecated
: Function get_magic_quotes_gpc() is deprecated in
/home/americanconserva/public_html/wp-includes/formatting.php
on line
4798