A few months back, Egyptian military forces were poised at a checkpoint where both civilians and military personnel were stationed. Out of nowhere, an SUV sped up towards the checkpoint along the desert road. Dramatically caught on video, the SUV loaded with four suicide bombers, stopped short of the checkpoint because one of the Egyptian tanks opted to take on the cowards and flattened the vehicle before anyone could act. As the tank cleared the area, a tremendous explosion rocked the complex in what could have been mass casualties. Instead, four suicide bombers lay in millions of pieces on the desert floor.
That type of situation plays out quite often in the small villages and remote checkpoints throughout the Middle East and Africa, all part of the Muslim Brotherhood's operation of keeping every country unstable and unsure.
In Iraq, a similar situation just recently played out as well where ISIS suicide cowards attempted to attack a US-held position. As they approached the base, US forces opened fire on the would-be attackers. Once they realized that they could no longer advance on their target, they detonated themselves!
Real Clear Defense:
Four Islamic State militants launched a failed suicide bomb attack on a US military base in Iraq, which resulted in the death of all bombers as US forces opened fired as they approached the base.
The US-led coalition says several Islamic State suicide bombers have attacked one of its bases in northern Iraq, without causing any Iraqi or foreign casualties.
US Army Col. Ryan Dillon, the coalition spokesman, says all the attackers were killed. According to reports the militants "detonated themselves once they realised they could no longer advance on the military base".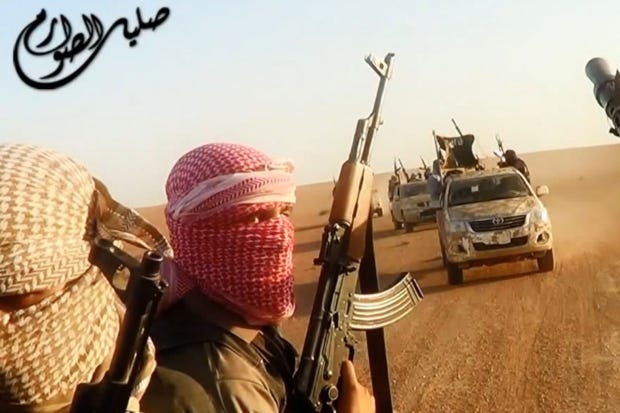 Dillon says Sunday's attack occurred in the area of the northern town of Hawija, one of the last pockets of IS control after the extremists were driven from Mosul earlier this year.
US-backed Iraqi forces have retaken all the major urban areas the extremists once held in Iraq, but IS remains capable of carrying out attacks on civilian and military targets.
This is a classic blunder by Islamic extremists hell-bent on destroying themselves along with their enemy. As they become more emboldened, our weapons systems become more advanced and they are falling behind modern technology in a stark way.
Now that these attacks are beginning to show signs of increasing, it means that their places to hide are becoming less available. Fear breeds desperation and that is where ISIS is right now. But they are also at their most dangerous.
Source: Real Clear Defense
Deprecated
: Function get_magic_quotes_gpc() is deprecated in
/home/americanconserva/public_html/wp-includes/formatting.php
on line
4798