Just when you thought the Hillary, Obama & George Soros (HOGS) Funding Corporation could go no farther Left than it already has, up pops yet another of the 190+ funded groups that dot the landscape of bizarre antifa politics like violence, riots, and beating up old ladies and puppies!
George Soros is having a real good run this year as Donald Trump continues to be a great straw man for drumming up support for his many front groups for radical extremist anti-government, anti-American activism. If Soros doesn't break this previous record fund-raising during this peak year, he will never do so again…taking into account of course that Trump doesn't run in 2020.
A brand new group is promising even more exciting news for Leftists. Adding to the already impressive abilities of the antifa to riot, loot, destroy, commit arson, assault, and threaten, they can now proudly announce that they're moving into a whole new realm: Spying!
Breitbart:
The UK far-left group Hope not Hate (HnH) claim that they are expanding into the United States and have promised to bring "undercover operatives" to the country.
Hope not Hate released the information on Twitter Tuesday afternoon urging followers to follow their new U.S. branch and donate to the project located at a new website address. The U.S. branch of the group tweeted out a picture from the Charlottesville torch march with the caption: "You bring your tiki torches. We'll bring our undercover operatives."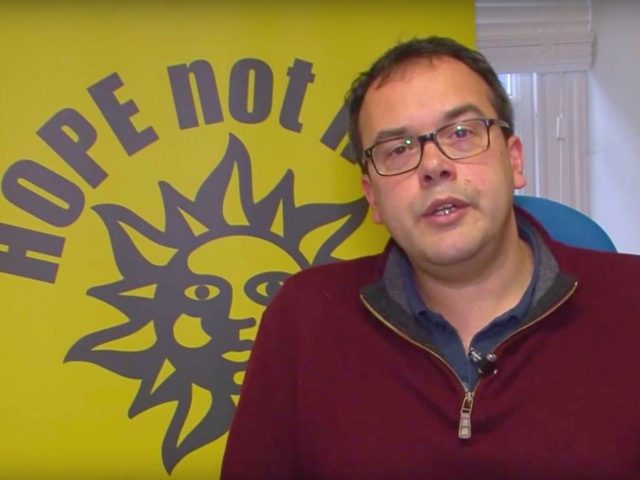 Hope not Hate are a registered charity in the UK and are synonymous with far-left causes and have traditionally targeted far-right figures and groups like the British National Party.
Muslim reformer Dr. Zuhdi Jasser has called the group "Orwellian" saying: "They're basically doing the same thing as [Osama] Bin Laden and [Abu Bakr] Baghdadi [the leader] of ISIS… and the Saudi government."
The U.S. Hope not Hate website is sparse, other than asking for donations. The registered address for the group is in the UK, meaning that it is likely not registered in the U.S. as a charity.
The site does not go into detail on whether or not its "undercover operatives" will be from the U.S. or flown in from the UK.
Hope not Hate also has ties to the Southern Poverty Law Center (SPLC), and both groups regularly cite each other's research and material. The SPLC was slammed by many after claiming that UK Muslim reformer Maajid Nawaz was an "anti-Muslim extremist".
Nawaz said earlier this year that he was going to sue the SPLC for defamation for their characterisation of him, saying that the organisation put him in danger from radical Islamists.
With a lull in fund-raising in the UK, this group Hope not Hate will make a go of it in the United States. Being that this country sports the most charitable people in the world, it's no wonder that Soros wants to destroy it for all its hatred.
Hopefully, Hope not Hate will be able to step up the one really bad habit that antifa has of tossing bags of urine and feces on their enemies. Perhaps Hate not Hope will be able to graduate to bags of vomit or roadkill. Better yet, how about just airing your complaints like most everyone else who has a job: Write to your congress member.
Source: Breitbart