Paul Ryan, like most of the Republican Establishmentariat in the Swamp, believes that it really doesn't matter what they say and how they vote, as long as there is a long enough gap between the two that allows the voting public to forget that they failed to keep their promises once again.
John McCain is a good example of this, after having vigorously defended his statements during his last campaign that ObamaCare needed to be repealed and replaced. Of course that was then and this is now and McCain, of course, voted to save ObamaCare instead. This is supposedly because he changed his mind after receiving more information about the details, when in fact it has everything to do with his hatred of Donald Trump.
Paul Ryan, like McCain, dislikes Trump, but appears to dislike the American people even more. With a disdain for Americans that rivals even Hillary Clinton's disgust for Trump supporters and half of Americans. For the 42nd straight week, Paul Ryan has opted NOT to bring the conceal carry reciprocity bill to the floor, breaking a promise to the American people that he would do everything to ensure that Republicans who voted for him would not regret it!
Breitbart:
It is October 27 and House Speaker Paul Ryan (R-WI) has just finished ignoring national concealed carry reciprocity for a 42nd consecutive week.
National reciprocity was introduced by Rep. Richard Hudson (R-NC) on January 3, 2017, and Ryan has remained mum on it ever since, with one exception. That one exception came in the wake of the June 14 Alexandria attack, when Ryan told Rep. Thomas Massie (R-KY) that "he didn't think the time was right" for legislation revolving around reciprocity.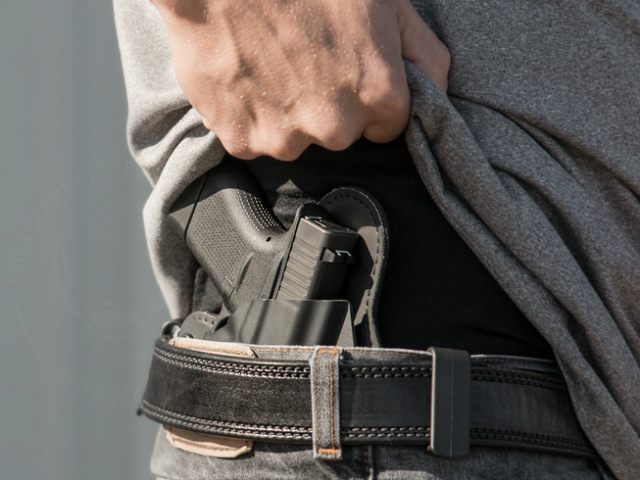 This is typical of a ruling class mentality. Ryan enjoys taxpayer-funded armed protection wherever he goes while the common man is forced to plan family vacations along routes where our nation's patchwork of concealed carry laws will somehow afford him the ability to keep a handgun close at hand for defense of himself and his family.
If a common man with a concealed carry permit from Kentucky needs to travel I-64 to St. Louis, Missouri, he will have to do so unarmed because the route includes passage through Illinois, which refuses to recognize any concealed carry permit but its own. Or if a common man with a concealed carry permit from Arizona has to travel to surrounding states for work he can be armed for self-defense in New Mexico, Colorado, Utah, and Nevada, but he has to move throughout California unarmed because that state will not recognize any outside permits either.
Why should Second Amendment rights be null and void because someone crosses a state border?
Rep. Hudson's bill fixes this mess by making a concealed carry license from one state valid in the other 49 states, just like a driver's license. Moreover, Hudson's bill had 212 co-sponsors by the end of September, making it appear that momentum was finally on the side of the Second Amendment.
But we are still waiting on Speaker Ryan, who has let national reciprocity languish for 42 consecutive weeks.
If the Speaker had a Democratic-controlled Senate and presidency, you might forgive him for holding off on the vote as a strategic maneuver. But when he has been stonewalling the American people and their elected officials who have asked for this over and over, you know that there must be other forces at work.
We all remember the pushback that Ryan gave after Trump won the nomination and how long it actually took to pull the words forcibly from his throat to endorse our man. This is the problem that they will never be able to resolve if they continue to hold the Establishmentariat up as their god, instead of holding up the will of the people that was given to us by the grace of God.
Source: Breitbart