When Donald Trump first threw his hat into the ring of the 2016 presidential election he had stout opposition from many Republicans, including Speaker of the House, Paul Ryan.
Ryan stated early on in the campaign that he would never support a Trump presidency if Trump should win and the American people took Ryan at his word. His approval ratings have been on a steady decline ever since!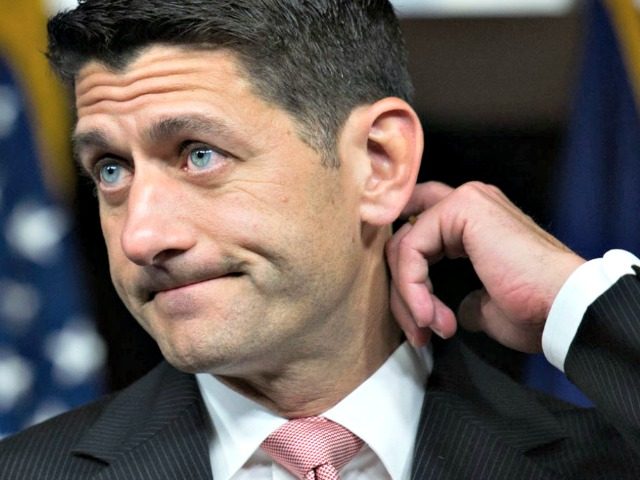 A new poll just released shows Ryan's approval ratings in his Wisconsin district at 43% with 51% of voters disapproving, indicating they are ready for a change, as well. Needless to say, most of conservative America is ready for a change too!
As Breitbart reports:
A poll released…finds 48 percent of voters in Republican House Speaker Paul Ryan's Wisconsin district want someone new to take his seat.
The poll, conducted by progressive firm Public Policy Polling on behalf of a liberal group opposed to the Speaker, also found that 51 percent disapprove of Ryan's job performance, while 43 percent approve.
Asked if "If the election for Congress were held today, would you vote to re-elect Republican Paul Ryan, or do you think it's time for someone new," 46 percent said they would re-elect Ryan, but 48 percent said it's time to elect a new representative.
Part of voters' souring on Ryan may be due to the American Health Care Act, narrowly passed in the House earlier in May. Fifty percent said they disapprove of the bill, while 32 percent approved and 18 percent weren't sure. Voters were evenly divided on Obamacare: 40 percent approved and 40 percent disapproved, while 19 percent weren't sure.
Fifty percent of the poll's respondents said they voted for President Donald Trump, and 38 percent said they had voted for Hillary Clinton.
In my humble opinion, it is time for Paul Ryan to go, at least as Speaker of the House! It is up to Wisconsin voters to decide if they want to keep him in Congress, but his leadership role as Speaker is over as far as most Trump voters are concerned.
It's surprising that Ryan was appointed to be House Speaker to begin with, as he didn't want the job in the first place. And now knowing how he feels about Trump, taking into consideration that many establishment Republicans see Trump as a threat to their status quo, it isn't really that surprising! But if Trump is going to be successful with his agenda, Ryan will have to go.
Source: Breitbart