No one ever suggested that untangling the web of corruption surrounding the failed Clinton campaign would be easy. In fact, if Hillary were to claim that she was unaware of any one particular incidence of corruption, she might actually be telling the truth for once. What one human would be capable of knowing of every fraudulent or otherwise corrupt act committed by her campaign?
The focus remains on Fusion GPS and its work on the discredited "anti-Trump dossier." One issue now at hand relates to whether anyone within the FBI had connections to the production of that document. If so, someone or some persons are in an awful lot of trouble.
FBI Deputy Director Andrew McCabe was scheduled to appear before the House Intelligence Committee on Tuesday. However, he abruptly canceled his appearance. It looks like he will still testify before the committee, but that it will take a subpoena to get him there. Obviously, McCabe knows something he does not want to share. Perhaps he is huddling with legal counsel before appearing before the committee. In any case, expect Congressman Trey Gowdy's House Intel Committee to issue the subpoena. And expect fireworks.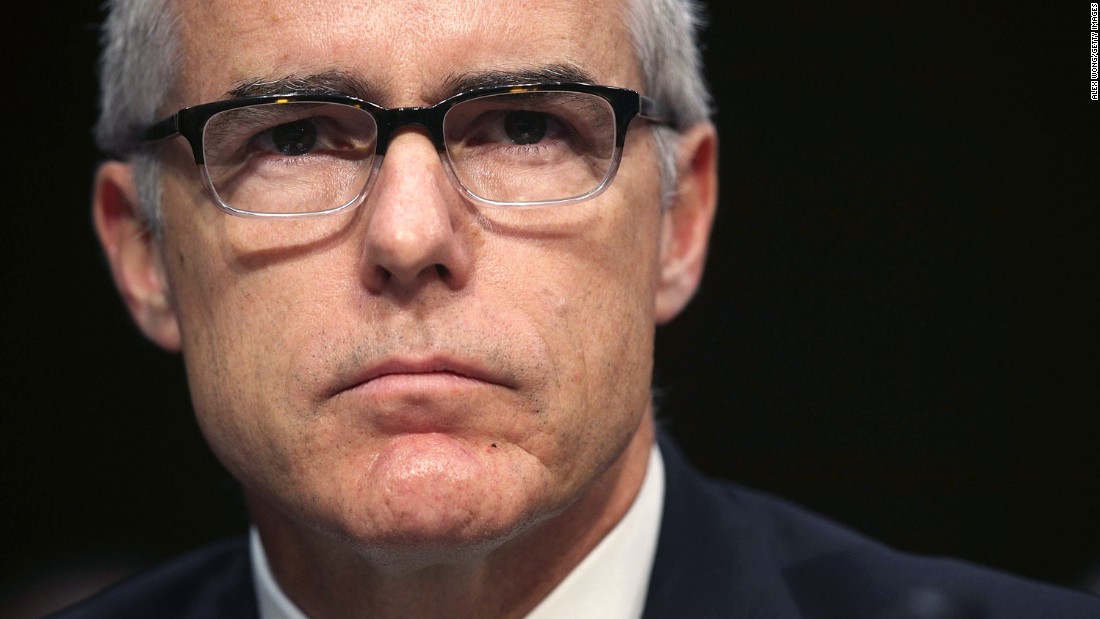 "FBI Deputy Director Andrew McCabe abruptly cancelled an appearance before the House Intelligence Committee scheduled for Tuesday. Sources told Fox News reporter Chad Pergram that they believe McCabe canceled on the panel over fears he would be asked about recently demoted Justice Department official Bruce Ohr's wife, who worked for Fusion GPS during the 2016 presidential election."
Following a couple of tweets from Chad Pergram of Fox News fill in the blanks very nicely.
FBI's McCabe was expected to appear before Hse to Intel Cmte Tues. Now told he's not coming. Expect subpoenas to compel McCabe to appear this wk. Source: "McCabe has an Ohr problem"

— Chad Pergram (@ChadPergram) December 12, 2017
Congressional sources tell Fox they believe FBI DepDir McCabe not coming to Hse Intel Cmte tomorrow because he'd be asked about Bruce Ohr & Ohr's wife Nellie who worked for Fusion GPS.
something far more sinister.

— Chad Pergram (@ChadPergram) December 12, 2017
Again, we can turn to Fox News for a concise picture of what this is all about.
"Fox News reports:
"A senior Justice Department official demoted last week for concealing his meetings with the men behind the anti-Trump "dossier" had even closer ties to Fusion GPS, the firm responsible for the incendiary document, than has been disclosed, Fox News has confirmed: The official's wife worked for Fusion GPS during the 2016 election.
"Contacted by Fox News, investigators for the House Permanent Select Committee on Intelligence (HPSCI) confirmed that Nellie H. Ohr, wife of the demoted official, Bruce G. Ohr, worked for the opposition research firm last year. The precise nature of Mrs. Ohr's duties – including whether she worked on the dossier – remains unclear but a review of her published works available online reveals Mrs. Ohr has written extensively on Russia-related subjects. HPSCI staff confirmed to Fox News that she was paid by Fusion GPS through the summer and fall of 2016."
The corruption introduced into the 2016 presidential campaign by Hillary Clinton and her associates was immense. That members of the Obama administration were likely involved makes matters even worse.
One could easily surmise that the unsuccessful attempt to nail President Trump and his team with something that would stick might just be cover for some very real crimes committed by Team Clinton and associates. If so, we might well be on the cusp of the media being forced to cover stories of real corruption. These would be crimes committed not by President Trump as the media would prefer, but by Hillary.
One thing is for sure. Once Mr. McCabe is finally put under oath and testifies, we will get some very revealing information. Or perhaps a few attempts to plead the Fifth Amendment.
Either way, this will be a hearing well worth watching.
Source: Gateway Pundit