Austrian officials have been hard at work attempting to slow down the flow of refugees through Italy and into their lands primarily through the Brenner Pass by setting up a massive fence and wall along the extremely busy highway. The refugees traveling to Italy by way of the Mediterranean Sea from the Middle East and Africa are attempting to make their way northward through to the more liberal welfare states of Germany, France, Britain and all of Scandinavia.
Switzerland has itself been battling these challenges as well. With little room for the tens of thousands of refugees that have been pouring over their borders, it has become a tipping point for the Right wing parties there. In fact, just a few weeks ago, one of the very Liberal legislators was arrested and charged with aiding and abetting refugees to illegal enter Swiss territory.
In an effort to dissuade the mass incursion, Austria last week instituted a new law that would ban the wearing of a burqa or niqab in public due to safety issues. The ban's violators are charged hefty fines. As a way to combat this new law, a wealthy Algerian businessman, Rachid Nekkaz, announced that he would pay for any woman's fine if she received one. This week, at a rally to defy the latest Austrian ban, police arrested none other than Nekkaz as he was protesting along with veiled Muslim women!
Breitbart:
Algerian millionaire and political activist Rachid Nekkaz was arrested by police in the Austrian capital after wearing a full-face mask in violation of the newly implemented law banning facial coverings like the Islamic veil.
Mr. Nekkaz announced that he would be protesting the full-face covering ban, commonly referred to as the burqa ban, after arriving at Vienna's Schwechat airport on Sunday. Nekkaz arrived in the vicinity of the office of Foreign Minister Sebastian Kurz at Minoritenplatz soon after 12 pm.
Nekkaz chose the location as the current Austrian People's Party leader was the main proponent of the ban on the burqa and niqab which was passed into law earlier this year.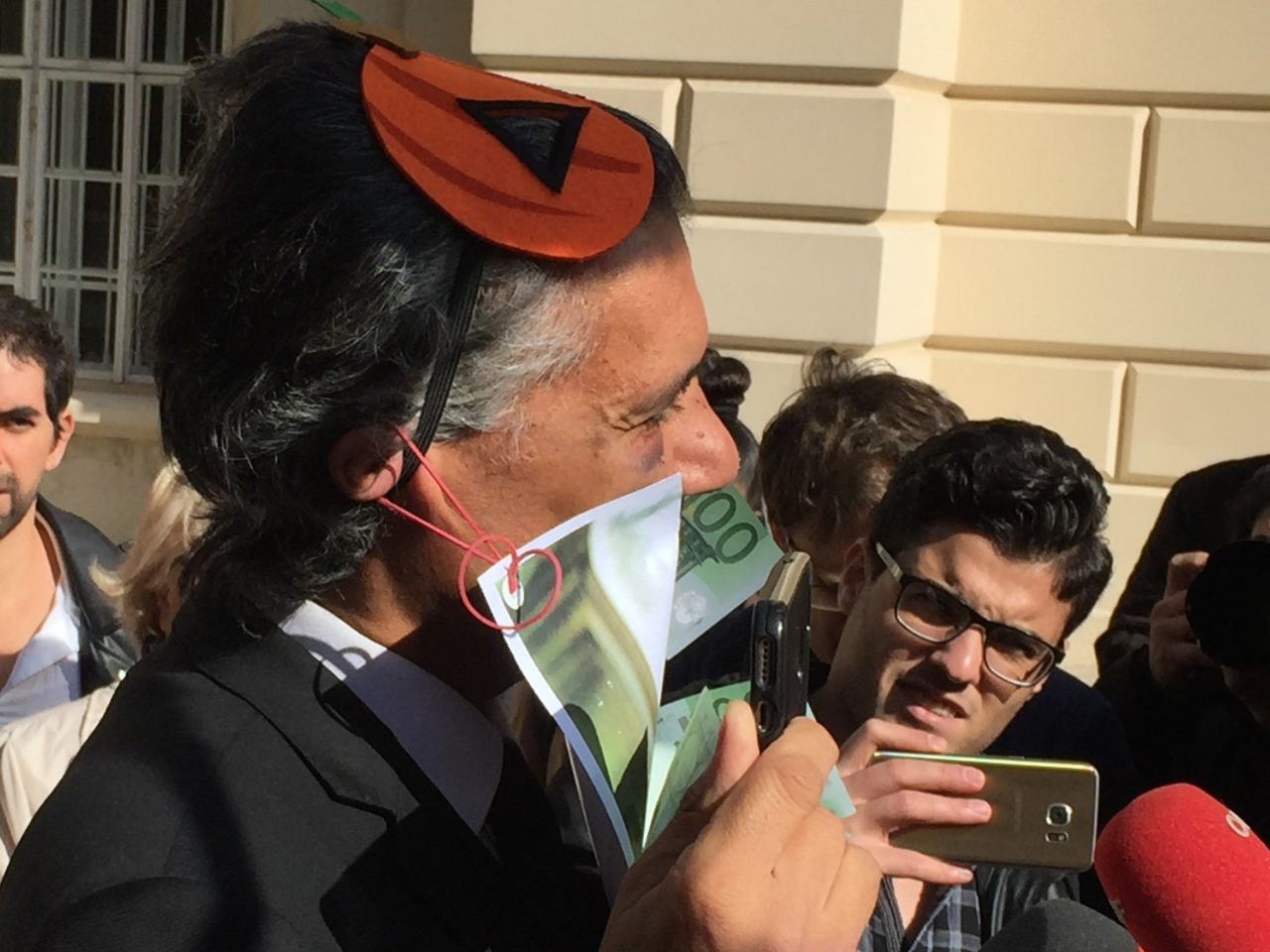 Though many expected him to be wearing a burqa or with someone who was wearing the Islamic garment, Nekkaz turned up in a Halloween-inspired outfit with a top hat, a pumpkin mask covering his eyes and nose and a picture of Sebastian Kurz covering the bottom portion of his face with several 100 euro notes attached.
Nekkaz claimed that he wanted to wish Austrians a "Happy Halloween" and that he respected the Austrian constitution and laws and was more than willing to pay the 150 euro fine for covering his face in a public place.
The Algerian millionaire has found some notoriety for offering to pay the fines of Muslim women who wear burqas, niqabs or burkinis in countries that have banned them. When asked by an Austrian journalist if he had already paid any fines relating to the Austrian ban he said he had not so far.
After answering questions from journalists for several minutes, local police based at the foreign ministry approached Nekkaz and told him that it was illegal to cover his face in public. He told the officers that he would pay any fines willingly but was taken into custody after officers insisted that the fine could not be paid in the middle of a crowd.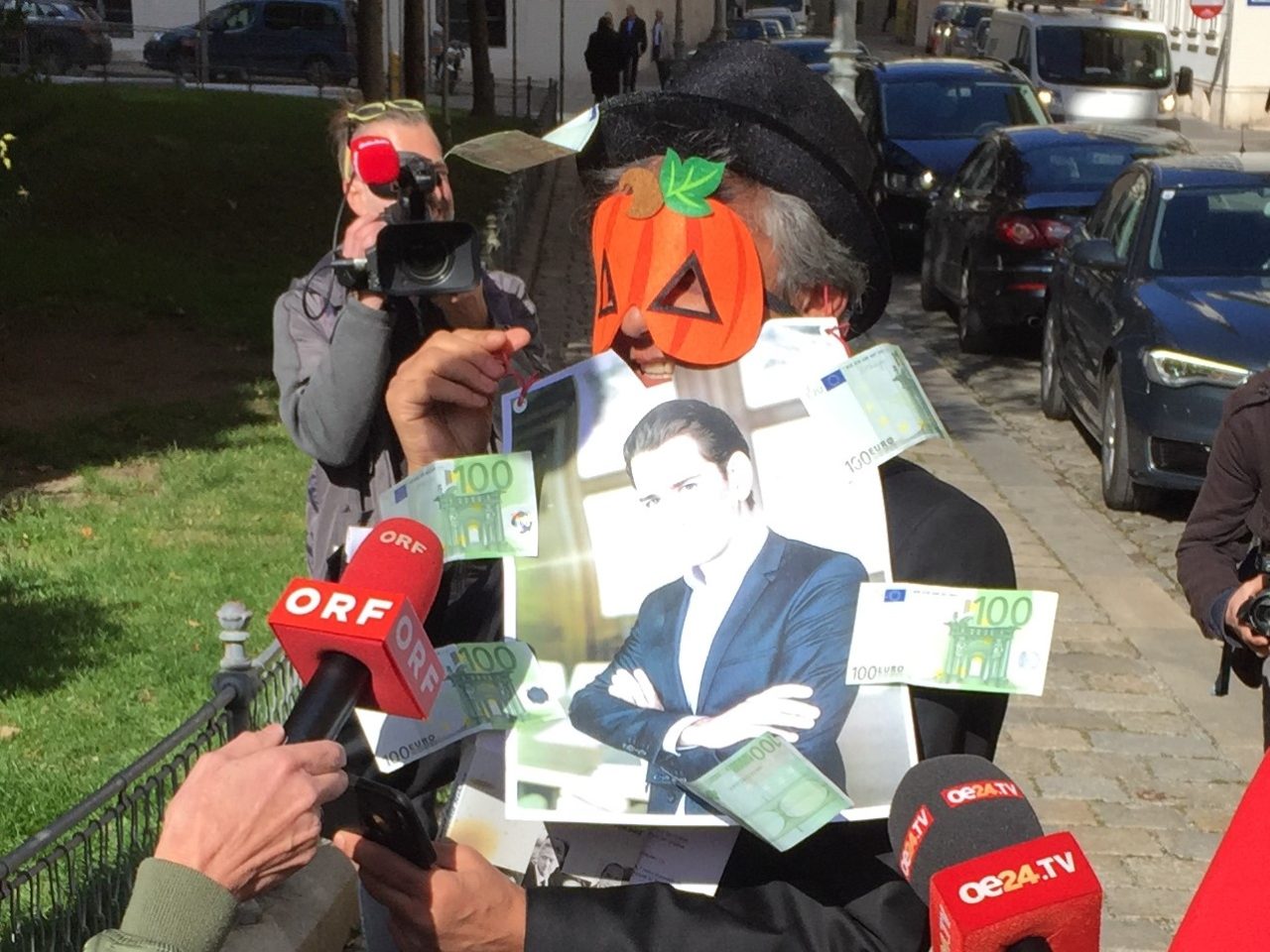 Within Europe, there is a large percentage of Leftists who believe it is the right of all people, no matter where they come from, to be able to enter Europe with no pre-conceived conditions. Like the Liberals in this country, many of these Europeans are haters of their own countries and cultures and cheer the arrival of the Caliphate as it seeks to envelop and absorb the world at large.
If Europeans who do not subscribe to Sharia Law and who do not view their own countries as illegitimate or oppressive, they'd best get their butts in gear and begin standing up and taking this very seriously. It's neither a laughing matter, nor is it just a whim. These people, both on the Left and in the radical Islamic circles, are very serious and before you know it, they will be in the majority and there will be no more Europe as we know it.
Source: Breitbart