Rahm Emanuel may be a Leftist hack, enslaved to the DNC and the breast milk of Uncle Sam, but he is also a talented hack. He really knows how to work up the base and roil the opposition. Sean Hannity often refers to him as Rahm "Dead Fish" Emanuel, because of his heavy ties to Chicago and the old ways of getting things done. If someone doesn't comply, they get the dead fish delivered in a newspaper!
Emanuel comes from a family of radicals, so it's nothing new to have the feds breathing down his neck in their quest to have him capitulate on their demands. The biggest complaint that the federal government (and particularly the Trump administration and the DOJ) have with Emanuel is his insistence on Chicago remaining a sanctuary city. As you know, a sanctuary city does its level best to thwart federal immigration laws and deny ICE agents any cooperation by local law enforcement to take criminal aliens off the streets or out of the country.
So when President Trump announced his decision to completely end Emanuel's former boss' DACA program, on top of the fact that the Trump administration is threatening Chicago's federal funding, these two significant changes appear to have been the crux of why Emanuel is so ticked. In fact, he's more than ticked, he's gone insane. How, you may ask? Well, the mayor has given his own announcement to his adoring Leftist fans that Chicago is a "Trump-Free Zone!"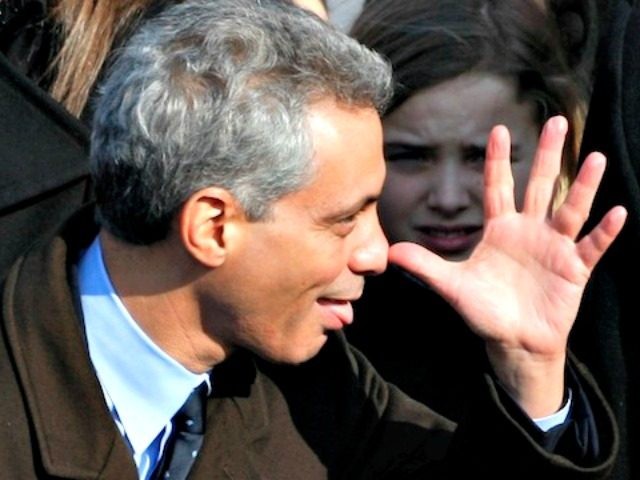 Fox News Insider:
Chicago Mayor Rahm Emanuel (D) blasted President Trump's decision to end the Obama-era Deferred Action for Childhood Arrivals (DACA) program.
The program allowed foreign children of illegal immigrants to remain in the United States. Trump set a six-month sunset on the program.
Emanuel addressed a room full of DACA recipients, or Dreamers, telling them "you are welcomed in the city of Chicago."
"This is your home and you have nothing to worry about," he said.
"Our schools, our neighborhoods, our city – as it relates to what President Trump said – will be a Trump-Free Zone," he said.
Emanuel said his program allowing high school students with a "B" average to attend community college and have the taxpayers pick up the tab will be open to DACA recipients.
"You will always be Dreamers in the eyes of the city of Chicago, because you have big dreams and we want to be a part of those dreams," he said.
The problems of illegal aliens goes way beyond money. It cuts to the heart of what we are as Americans. Illegals live and work in the United States precisely because they have broken federal immigration laws. To top that, they then go ahead and steal identities of legal American citizens by "borrowing" their Social Security Numbers and those are the basis for them to receive government assistance, welfare, free healthcare, and education.
If I were President Trump, I would schedule a trip to Chicago when I had a free moment and show America that no amount of threats by a two-bit, racist mayor like Rahm Emanuel is going to keep the President of the United States out of one of the major cities, particularly when the mayor can't seem to get the shameful murder rate under control after years in office. "Hello, National Guard?"
Source: Independent Journal Review