The outrage was instantaneous in the Conservative world when both Barack Hussein Obama and Secretary of State John Kerry ingratiated themselves to Iranian officials who had broken international law and taken members of our Navy hostage for an entire day, eliciting ridiculous groveling from both the president and the secretary, as well as apologies all around.
After spending an entire afternoon thanking Iranian officials for forcing our naval personnel to film propagandistic videos where the service members were gushing about how well they were treated and how they were saved with life-sustaining water and food, they then went ahead with their plan of paying hundreds of millions in ransom money and submitting to Islam in a very embarrassing way.
Those days are over. President Trump in the White House has defined a new era of American-Iranian interaction and it's not exactly what Obama and Kerry had in mind. In fact, it's quite certain that they are all appalled by our new policies toward Iran. Our naval forces have just fired off warning shots to an Iranian patrol vessel that came a bit too close for comfort.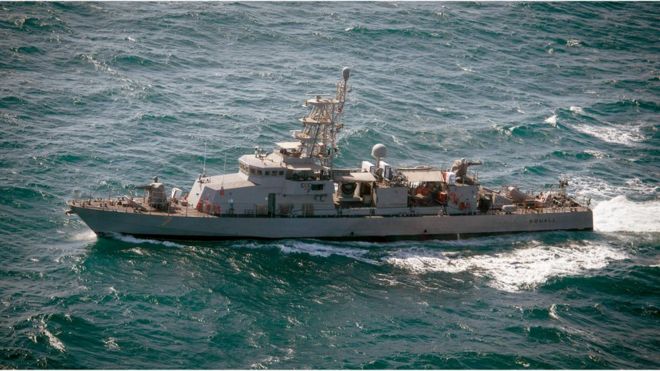 Fox News:
A U.S. Navy ship fired warning shots at an Iranian ship in the Persian Gulf on Tuesday, two U.S. defense officials confirmed to Fox News.
The American coastal patrol ship fired warning shots from its .50-caliber machine gun at an Iranian patrol boat when it came within 150 yards of the U.S. vessel, the officials said.
The Iranian Islamic Revolutionary Guard Corps ship ignored repeated radio calls from the USS Thunderbolt, which also launched flares and sounded the danger signal – five short blasts – to warn the fast-approaching Iranian ship, officials said.
The incident occurred as a formation of U.S. Navy warships was conducting an exercise in the Northern Persian Gulf. It's also the first time since President Trump took office in January that a U.S. ship has fired warning shots at an Iranian ship.
We see increased aggression all over the world," said Rep. Mac Thornberry, R-Tex., the chairman of the House armed services committee. "Recently, we also had aggressive activity by the Chinese. Of course, we've seen a pattern of this from the Russians. And now the Iranians. So it's clear people are testing us from all around the world."
Between Russian fighter jets tracking American planes in the Black Sea and patrolling off the coast of Alaska, as well as Chinese ships making unprecedented thrusts into international waters right outside the 49th State, the Iranian near-skirmishes have added to the international pressures of the Shanghai Cooperative Organization (SCO) exerted on the Trump administration and NATO.
The sanctions against Iran will only cause more outbreaks from the Islamic State, but the difference between an Obama administration and a Trump administration will be, instead of thanking the Iranians for violating our vessel space and collision regulations, we'll be firing off more than a warning shot if they decide to get into a good match of "chicken."
Source:  Fox News