Deprecated
: Function get_magic_quotes_gpc() is deprecated in
/home/americanconserva/public_html/wp-includes/formatting.php
on line
4798
Deprecated
: Function get_magic_quotes_gpc() is deprecated in
/home/americanconserva/public_html/wp-includes/formatting.php
on line
4798
Deprecated
: Function get_magic_quotes_gpc() is deprecated in
/home/americanconserva/public_html/wp-includes/formatting.php
on line
4798
Deprecated
: Function get_magic_quotes_gpc() is deprecated in
/home/americanconserva/public_html/wp-includes/formatting.php
on line
4798
Deprecated
: Function get_magic_quotes_gpc() is deprecated in
/home/americanconserva/public_html/wp-includes/formatting.php
on line
4798
Deprecated
: Function get_magic_quotes_gpc() is deprecated in
/home/americanconserva/public_html/wp-includes/formatting.php
on line
4798
Deprecated
: Function get_magic_quotes_gpc() is deprecated in
/home/americanconserva/public_html/wp-includes/formatting.php
on line
4798
Deprecated
: Function get_magic_quotes_gpc() is deprecated in
/home/americanconserva/public_html/wp-includes/formatting.php
on line
4798
Deprecated
: Function get_magic_quotes_gpc() is deprecated in
/home/americanconserva/public_html/wp-includes/formatting.php
on line
4798
Deprecated
: Function get_magic_quotes_gpc() is deprecated in
/home/americanconserva/public_html/wp-includes/formatting.php
on line
4798
Deprecated
: Function get_magic_quotes_gpc() is deprecated in
/home/americanconserva/public_html/wp-includes/formatting.php
on line
4798
Deprecated
: Function get_magic_quotes_gpc() is deprecated in
/home/americanconserva/public_html/wp-includes/formatting.php
on line
4798
Deprecated
: Function get_magic_quotes_gpc() is deprecated in
/home/americanconserva/public_html/wp-includes/formatting.php
on line
4798
Deprecated
: Function get_magic_quotes_gpc() is deprecated in
/home/americanconserva/public_html/wp-includes/formatting.php
on line
4798
Deprecated
: Function get_magic_quotes_gpc() is deprecated in
/home/americanconserva/public_html/wp-includes/formatting.php
on line
4798
Deprecated
: Function get_magic_quotes_gpc() is deprecated in
/home/americanconserva/public_html/wp-includes/formatting.php
on line
4798
Deprecated
: Function get_magic_quotes_gpc() is deprecated in
/home/americanconserva/public_html/wp-includes/formatting.php
on line
4798
Deprecated
: Function get_magic_quotes_gpc() is deprecated in
/home/americanconserva/public_html/wp-includes/formatting.php
on line
4798
Deprecated
: Function get_magic_quotes_gpc() is deprecated in
/home/americanconserva/public_html/wp-includes/formatting.php
on line
4798
Deprecated
: Function get_magic_quotes_gpc() is deprecated in
/home/americanconserva/public_html/wp-includes/formatting.php
on line
4798
Deprecated
: Function get_magic_quotes_gpc() is deprecated in
/home/americanconserva/public_html/wp-includes/formatting.php
on line
4798
Deprecated
: Function get_magic_quotes_gpc() is deprecated in
/home/americanconserva/public_html/wp-includes/formatting.php
on line
4798
Deprecated
: Function get_magic_quotes_gpc() is deprecated in
/home/americanconserva/public_html/wp-includes/formatting.php
on line
4798
One of the many problems President Trump faces is opposition from entrenched officials within various government agencies who are loyal to Mr. Obama, and who are very willing to obstruct President Trump's initiatives. While you would think that employees who refuse to follow lawful orders should be able to be fired, it's not that simple.
Few places does this play out with more intensity than at the State Department, an agency dedicated to a leftist agenda that likes to operate as though it's independent of accountability to the secretary of state, let alone the president.
For example, an official named Jennifer L. Smith informed affiliated agencies that migrants can enter the country in violation of any quotas that might be in place. In other words, she decreed that the law doesn't apply.
"The New York Times has revealed that the State Department has just lifted the restrictions on the number of refugees allowed to enter the U.S., in a move that seems to fly in the face of Donald Trump's campaign promises to voters.
"In an email sent just days ago, a State Department official named Jennifer L. Smith quietly told private agencies involved in refugee assistance that foreigners could now enter the country 'unconstrained by the weekly quotas that were in place.'"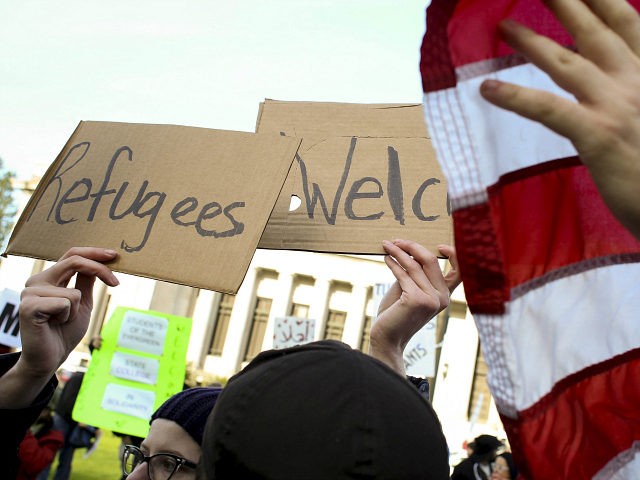 Rather blatant in her defiance of the president, isn't she? Why has she not simply been fired for insubordination? We know what the problem is:
"'The Bureau of Population, Refugees and Migration, the administrative part of the State Department that manages the inflow of refugees to the United States, continues to be run by holdovers from the Obama administration,' Breitbart News noted about the shocking quota decision."
Apparently the drain is only so large, thus restricting how quickly President Trump can drain the swamp. Then we have the perfidious actions of State Department officials as they use subterfuge in their attempt to pull a fast one.
"The timing of the email also suggests that the State Department did not want Trump supporters to notice the change.
"'Betraying the voters who elected Donald Trump, the Department of State slipped the news to the contractors on Thursday who then slipped the news to the New York Times just as you were packing up for the beach or getting ready for a family barbecue using the federal government's favorite holiday weekend trick to bury the news,' explained Ann Corcoran on the Refugee Resettlement Watch blog."
The principle at work here is very simple. The president needs and deserves a team that will follow his lead. Moles or other malcontents whose loyalties lie elsewhere need to resign or be dismissed. Disagreeing with the president is one thing, and it's their right. Sabotaging him is another thing altogether, and those engaging in such acts need to be rooted out.
Source: Conservative Tribune
Deprecated
: Function get_magic_quotes_gpc() is deprecated in
/home/americanconserva/public_html/wp-includes/formatting.php
on line
4798