At a pivotal moment in the investigation of Hillary Clinton's illegal private email server, many people scattered in different directions to take care of evidence that would have been used in the investigation. And by "take care," I mean "to bury, erase, delete, hide, or wipe" from existence.
Three of the lawyers who were busy sifting through tens of thousands of emails on the private server database that would serve as part of the evidence were doing their level best to ensure that no one…and I do mean no one…would ever see these emails again.
As the months went by and more information came to light about collusion between the Clinton lawyers, the Department of Justice and the FBI, it was discovered that AFTER Clinton received a subpoena of all her emails on her server, she had opted to delete the server so effectively so that even God himself couldn't read them. Now, a judge wants answers from these three lawyers, David Kendall, Cheryl Mills and Heather Samuelson and, man, is Hillary sweating bullets!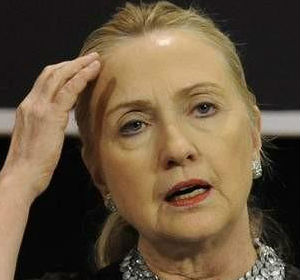 The Daily Wire:
A Circuit Court judge in Maryland has ordered the state bar to open investigations into three lawyers who allegedly deleted thousands of Hillary Clinton's emails.
Overruling lawyers representing the state, Anne Arundel County Circuit Court Judge Paul F. Harris Jr. said the complaints lodged against top Clinton lawyers David E. Kendall, Cheryl Mills and Heather Samuelson could not be dismissed as frivolous.
"There are allegations of destroying evidence," Judge Harris said at a hearing on Monday. He said that investigations must be conducted if the allegations have merit.
Lawyer Ty Clevenger, who has doggedly pursued sanctions against Clinton and her legal team, brought the case against the Clinton lawyers. He is seeking to have Clinton and her attorneys suspended or disbarred.
Clevenger contends that the lawyers helped Clinton destroy emails from a secret server the 2016 Democratic presidential nominee kept in her New York home. While Hillary turned over thousands of emails, she also destroyed some 33,000, saying they were private and not related to her work as Barack Obama's Secretary of State.
"My thesis is: If you are a politically prominent attorney, you are held to a different standard," Clevenger said after the hearing, according to the The Baltimore Sun. "I've seen this in Texas, California … I chose this case because I knew people would pay attention."
"I just think this is a rather easy decision at this point," [the judge] said. "The court is ordering bar counsel to investigate."
Whether or not these people are disbarred, it will not stop them from continuing their illegal activities. Bill Clinton was also disbarred for his committing perjury during the Monica Lewinsky scandal. And while Hillary was not, her license was suspended in 2002 for not achieving bar standards in education.
What this will do, however, is send a clear message to other lawyers who are also working in nefarious ways with the Clintons and Democrats in general: You may be getting paid a LOT of money, but it will ultimately cost you your license to practice law.
Source: The Daily Wire