Opening the borders to whomever might wish to cross is lunacy. Setting up sanctuary cities where they can be shielded from deportation is even worse. Our political leaders are not all geniuses, but even they must understand the danger though they won't admit it. So something else is going on.
What is going on is a real effort by the left to generate more voters for Democratic candidates for office. You might think that illegals will get deported. Not from sanctuary cities. Well, surely they will fail to have the proper ID to vote. In some precincts, that just doesn't matter. And why would the left otherwise object to strengthening the laws requiring people to show an acceptable ID to vote? That only makes sense after understanding that the left wants illegals to vote.
In spite of all the obstruction from Democratic politicians, President Trump's Immigration and Customs Enforcement (ICE) soldiers on. It is getting harder to hide from the law. We now have word that 101 illegals were arrested for more than just immigration crimes. Their list of offenses more than proves the danger of open borders. It condemns that dangerous policy.
"Federal officers in New Jersey arrested 101 illegal immigrants–most with criminal histories–during a targeted, five-day operation that ended Friday. Those arrested include people with convictions for sexual assault of a minor, child abuse, distribution of drugs, possession of child porn, a variety of sexual offenses, and other violence.
"Of those arrested by U.S. Immigration and Customs Enforcement (ICE) Enforcement and Removal Operations officers, 88 percent had previous convictions for criminal offenses–80 percent had felony records–according to information from ICE."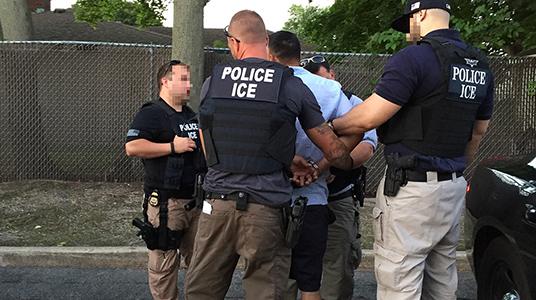 This is what you get from uncontrolled immigration. Anyone want to have one of these "well-meaning" immigrants for a neighbor? If you don't, you're likely to be called a racist by some on the left – as stupid as that might be.
Here's a sample of what has been allowed into our country:
"ICE officials provided the following examples of some of the criminal aliens arrested in the operation:
A Mexican citizen convicted of sexual assault of a minor
A Turkish citizen convicted of possession of child pornography
A Peruvian citizen convicted of invasion of privacy-recording a sexual act w/o consent
A Colombian citizen convicted of aggravated battery and domestic violence assault
A Spanish citizen convicted of storing/maintaining child pornography
A Philippines citizen convicted of possession of methamphetamine
A Dominican citizen convicted of cocaine distribution and possession
A Guyanese citizen convicted of aggravated assault with a weapon
An Egyptian citizen convicted of possession of heroin
An El Salvadorian citizen convicted of aggravated assault with serious bodily injury
A Korean citizen convicted of distribution of cocaine"
Not surprisingly, this sort of thing is not restricted to any one state. It's a nationwide problem.
"These arrests occurred about the same time ERO officers in Kentucky and Michigan rounded up nearly 50 illegal immigrants including many violent felons, Breitbart Texas reported."
Is this the price we must pay to bolster Democratic voting rolls?
Source: Breitbart