The probe into President Trump and his campaign staff's alleged ties with Russia is continuing with another round of investigations scheduled to begin on May 2nd.
Congress is taking the claim seriously enough to warrant bringing back a high ranking law enforcement official we've all seen before. Grab your popcorn, you will want to see these Republicans take this guy on!
So, once again, FBI Director James Comey is going to be on the hot seat, testifying before Congress. Needless to say, he's none too happy about it, since he'll be facing the likes of Trey Gowdy, who's poised to dig deep and expose whatever dirty secrets Comey may be keeping.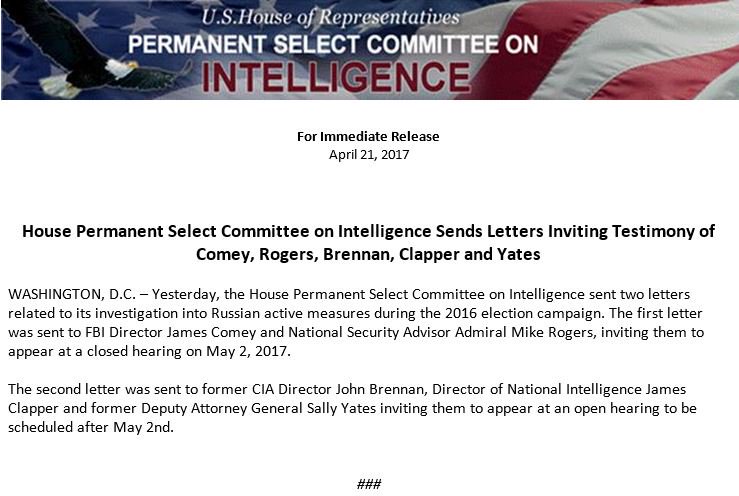 Red State reported:
Looks like the House Intelligence Committee will continue its probe into President Donald Trump and his administration's alleged ties to Russia and Russian President Vladimir Putin according to a tweet today from ranking Democrat Adam Schiff (CA) indicating an invitation to FBI Director James Comey and National Security Agency Director Mike Rogers to appear before a closed hearing May 2.
This comes, of course, on the heels of committee chairman, Devin Nunes, R-Calif., recusing himself from the probe after he took evidence straight to the White House that some of Trump's associates had been "unmasked" in an intelligence investigation. The problem? He went to 1600 Pennsylvania Avenue before sharing that information with his own committee investigating alleged ties. Nunes said it was merely a matter of logistics — the classified documents could only be viewed at the White House. But he recused himself anyway, which was, credit where it's due, the right thing to do.
And now the investigation continues without him. According to USA Today, other names familiar to those paying attention have also been invited to the new incarnation of the probe into the chumminess of the new president with a foreign country that is at times considered a US ally and at others is dressed down in front of the world by Ambassador to the UN Nikki Haley for their inaction in Syria. From USA Today:
A second letter was sent to former CIA director John Brennan, former director of national intelligence James Clapper and former deputy attorney general Sally Yates inviting them to an open hearing that will be scheduled sometime after May 2. Clapper was the first in the intelligence community to openly contest President Trump's still-unproven claim that President Obama "wire tapped" Trump Tower prior to November's election.
The heavy hitters from the Republican side are names most will recognize:
So the committee to investigate the alleged — alleged a lot — Trump-Russia connection is back in action and looks to be a bi-partisan affair. The effort, in the absence of Nunes, will now be overseen by Rep. Mike Conaway, R-Texas, with help from Reps. Trey Gowdy, R-S.C., and Tom Rooney, R-Fla. The last public hearings took place on March 30 and were held by the Senate Intelligence Committee.
One thing for certain is James Comey will be facing off with Trey Gowdy, and we can expect a thorough examination from him. We'll just have to wait and see if anything comes of it!
Source: Red State