On too many different occasions, Mexican president Enrique Pena Nieto has insisted that Mexico will not pay for the border wall. He has stated that in Mexican newspapers, on Mexican television, in his press conferences to the Mexican people, on friendly American (NBC-owned) Telemundo, as well as through his friends at MSNBC and their current whipping boy, CNN.
Despite all of that rhetoric, Trump has consistently remained on message. He will get the wall built for the safety and security of the American people and he will then ensure that it will be 100% paid for by the Mexican government. Some Leftists are confused as to why Mexicans should be responsible to pay for it, but the message is clear. Our southern neighbor's government has been advocating for its citizens to hop our border and has even been training them on how to thwart our laws once here.
Well, phase one has begun. President Trump's budget requests through the House of Representatives, the body that controls the money of the U.S. government, has announced its preparation for the presentation of the 2018 DHS budget and it is one for which Mexico will most likely require a bunch of aspirin!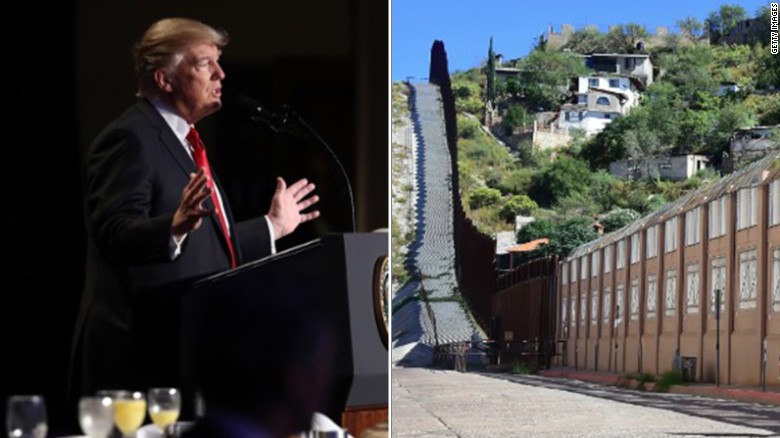 The Daily Caller:
The House Committee on Appropriations announced Tuesday that its 2018…(DHS) funding bill will allocate $1.6 billion toward President Donald Trump's border wall, setting the stage for a brawl between parties that could lead to a government shutdown.
The committee is pushing for $44.3 billion in funding — a $1.9 billion increase from 2017 spending levels. The $1.6 billion is part of $13.8 billion in discretionary spending directed toward Customs and Border Protection (CPB).
The proposal suggests $100 million be used to hire 500 new border patrol agents, $131 million for new border technology, $106 million for new aircraft and sensors and $109 million for non-intrusive inspection equipment.
In addition to CBP funding, the bill would allocate $7 billion to fund Immigration and Customs Enforcement — a $619.7 million increase from Fiscal Year 2017.
"This funding bill provides the resources to begin building a wall along our southern border, enhance our existing border security infrastructure, hire more border patrol agents, and fund detention operations," Homeland Security Subcommittee Chairman John Carter said in a statement.
This bill is certainly going to set off a load of fireworks when it comes down to the actual vote and chances are good that the Democrat Party which (under Obama) almost unerringly voted to raise budgets hundreds of times will suddenly have a crisis of conscience in regard to fiscal responsibility.
The imperative nature of this bill, however, is that in the end it will have paid for itself threefold. One, it will save us money for errant social programs which disproportionately support illegals; two, it will pare down the amount of dangerous Mexican felons on our streets and force Mexico to deal with their own criminals; and three, it will keep our voter rolls more honest. I believe those are all great reasons to fight for this budget.
Source:  The Daily Caller