For all the beauty that can be found in parts of the city of Chicago, it is an urban center with deep troubles. Where to begin?
Violent crime is at epidemic levels. The city identifies itself as a sanctuary city which puts it at odds with federal law enforcement personnel. It's finances are a shambles. Identity politics are a major force. And its mayor, former Obama official Rahm Emanuel, seems unable or unwilling to move his city in a positive direction. It is not impossible to see the jurisdiction just collapse with all the chaos and financial and personal losses that would entail. It could turn out that the only positive thing to have happened to Chicago in the past several decades was last year's World Series victory by the Cubs.
Racial tensions impacting other parts of our country trigger reactions in Chicago that do nothing to make it a desirable place to live or run a business. Mr. Emanuel now has on his desk a demand by a black bishop that Chicago parks named after President George Washington and President Andrew Jackson be changed in the light of the tragedy in Charlottesville. If Mr. Emanuel accedes to that demand, he's an even bigger disgrace to the city and our nation than we had previous thought.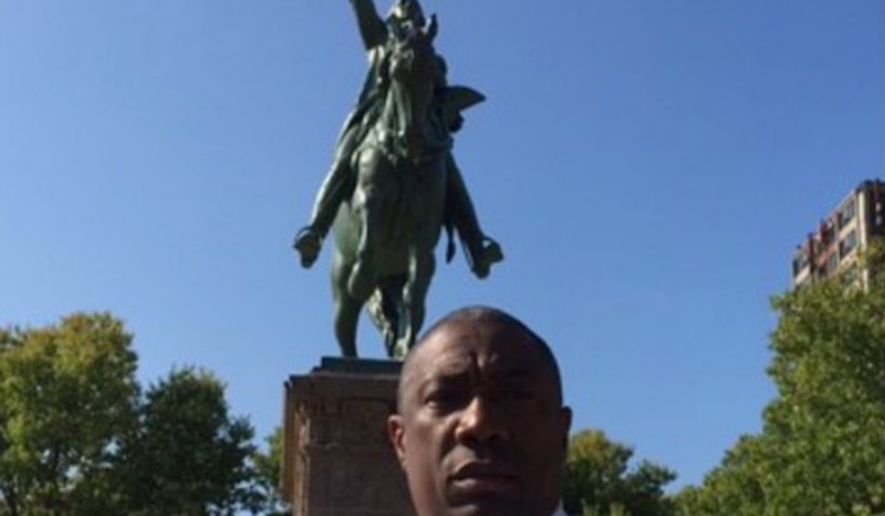 "Bishop James E. Dukes of Chicago's Liberation Christian Center made headlines in the Windy City on Wednesday for calling on Mayor Rahm Emanuel to rename Washington Park and remove a statue of the first U.S. president over his ties to slavery. Mr. Dukes told his Facebook flock that 'it's time' after Mr. Trump sparred with reporters over efforts to expunge Civil War-era monuments from existence.
"'This week it's Robert E. Lee. I noticed that Stonewall Jackson is coming down. I wonder is it George Washington next week and is it Thomas Jefferson the week after? You know, you really do have to ask yourself, where does it stop?' Mr. Trump asked reporters on Tuesday as he spoke on last weekend's violence in Charlottesville, Virginia."
Never ones to miss an opportunity to injected themselves into such debates, a leftist has used this tragedy to advance his cause of promoting identity politics.
"'I am feeling ambivalent that I would have to walk my child, attend a parade or enjoy a game of softball in a park that commemorates the memory of a slave owner,' Mr. Dukes continued. 'Therefore, I call on the immediate removal of President George Washington and President Andrew Jackson names from the parks located on the southeast side of Chicago. They should not have the distinct honor of being held as heroes when they actively participated in the slave trade.'
"The pastor's letter neglected to mention Washington's role in the Battle of Yorktown, a pivotal victory for the general that secured the nation's independence from Great Britain."
The pastor's letter will omit anything that does not support his narrow cause on focusing on some of the failings of great American leaders of the past. If he feels "ambivalent," then he needs to study American history. It is not the fault of anyone else that he has an ill-informed and biased view of those who were instrumental in building our nation.
The nation can exist just fine without Chicago. The degree that the left is allowed to turn our formerly great cities into cesspits by their many failed policies is a tragedy, but not one from which we cannot recover. Perhaps Mayor Emanuel can do a good job of making Chicago an example of how not to govern a major city.
In the meantime, hopefully Mayor Emanuel will for once have enough sense to do the right thing and politely tell this bishop that if he does not like the names of those parks, he can choose others to frequent. He might also wish to ask this bishop to reflect on the place that forgiveness and grace plays in the religion he alleges to support.
Source: Washington Times