Deprecated
: Function get_magic_quotes_gpc() is deprecated in
/home/americanconserva/public_html/wp-includes/formatting.php
on line
4798
Deprecated
: Function get_magic_quotes_gpc() is deprecated in
/home/americanconserva/public_html/wp-includes/formatting.php
on line
4798
Deprecated
: Function get_magic_quotes_gpc() is deprecated in
/home/americanconserva/public_html/wp-includes/formatting.php
on line
4798
Deprecated
: Function get_magic_quotes_gpc() is deprecated in
/home/americanconserva/public_html/wp-includes/formatting.php
on line
4798
Deprecated
: Function get_magic_quotes_gpc() is deprecated in
/home/americanconserva/public_html/wp-includes/formatting.php
on line
4798
Deprecated
: Function get_magic_quotes_gpc() is deprecated in
/home/americanconserva/public_html/wp-includes/formatting.php
on line
4798
Deprecated
: Function get_magic_quotes_gpc() is deprecated in
/home/americanconserva/public_html/wp-includes/formatting.php
on line
4798
Deprecated
: Function get_magic_quotes_gpc() is deprecated in
/home/americanconserva/public_html/wp-includes/formatting.php
on line
4798
Deprecated
: Function get_magic_quotes_gpc() is deprecated in
/home/americanconserva/public_html/wp-includes/formatting.php
on line
4798
Deprecated
: Function get_magic_quotes_gpc() is deprecated in
/home/americanconserva/public_html/wp-includes/formatting.php
on line
4798
Deprecated
: Function get_magic_quotes_gpc() is deprecated in
/home/americanconserva/public_html/wp-includes/formatting.php
on line
4798
Deprecated
: Function get_magic_quotes_gpc() is deprecated in
/home/americanconserva/public_html/wp-includes/formatting.php
on line
4798
Deprecated
: Function get_magic_quotes_gpc() is deprecated in
/home/americanconserva/public_html/wp-includes/formatting.php
on line
4798
Deprecated
: Function get_magic_quotes_gpc() is deprecated in
/home/americanconserva/public_html/wp-includes/formatting.php
on line
4798
Deprecated
: Function get_magic_quotes_gpc() is deprecated in
/home/americanconserva/public_html/wp-includes/formatting.php
on line
4798
Deprecated
: Function get_magic_quotes_gpc() is deprecated in
/home/americanconserva/public_html/wp-includes/formatting.php
on line
4798
Deprecated
: Function get_magic_quotes_gpc() is deprecated in
/home/americanconserva/public_html/wp-includes/formatting.php
on line
4798
Deprecated
: Function get_magic_quotes_gpc() is deprecated in
/home/americanconserva/public_html/wp-includes/formatting.php
on line
4798
Deprecated
: Function get_magic_quotes_gpc() is deprecated in
/home/americanconserva/public_html/wp-includes/formatting.php
on line
4798
Deprecated
: Function get_magic_quotes_gpc() is deprecated in
/home/americanconserva/public_html/wp-includes/formatting.php
on line
4798
Deprecated
: Function get_magic_quotes_gpc() is deprecated in
/home/americanconserva/public_html/wp-includes/formatting.php
on line
4798
Deprecated
: Function get_magic_quotes_gpc() is deprecated in
/home/americanconserva/public_html/wp-includes/formatting.php
on line
4798
Deprecated
: Function get_magic_quotes_gpc() is deprecated in
/home/americanconserva/public_html/wp-includes/formatting.php
on line
4798
One thing you should never do is lie to a member of the United States government, particularly when they are asking you specific questions regarding your behavior, your lifestyle or your possessions. If you change your lie in mid-interrogation, that's even worse. Telling multiple lies in succession, however, is grounds for agents of the government to discount pretty much every thing that issues from your mouth at that point.
FBI agents are trained to spot lies and to delve into questioning that will catch the suspect in his own web of deceit. They are very good at it and they have cultivated this talent over many decades as they have forced confessions from countless nefarious individuals who meant harm to other Americans and to our country.
One such person was 28-year-old Yousef Mohammad Ramadan who is a resident of Michigan. Over the past several weeks, he was surveilled and finally arrested as he was attempting to leave the country with his wife and children, bound for Amman, Jordan. In a storage unit rented by Ramadan was a cache of weapons with serial numbers removed (a federal offense)! Authorities are now entertaining the fact that they may have thwarted another terror attack in the United States.
The Detroit News:
The FBI's counterterrorism team blocked an Ypsilanti man from flying to the Middle East and arrested him Friday after discovering a weapons arsenal in a storage unit, the latest national security-related case in Metro Detroit.
Yousef Mohammad Ramadan, 28, has not been charged with a terror-related crime and an FBI spokesman declined to comment, leaving it unclear why the FBI's counterterrorism team and the head of the U.S. Attorney's Office's national security unit are involved in the case, whether investigators had thwarted a terror attack or stopped a man from traveling overseas to commit terror.
Ramadan has been charged with knowingly possessing a firearm with an obliterated serial number, a five-year felony.
During the interview, Ramadan said he owned two rifles and a Glock handgun and placed the firearms in a storage unit before arriving at the airport, court records show.  Ramadan could not remember the storage unit address but offered to take investigators to the facility.
"However, when asked to take the agents to the storage unit, Ramadan stated that he had lied about the storage unit, and actually had stored the firearms with a friend," Schanberger wrote in the criminal complaint.
Then the story changed.
"Ramadan refused to identify the friend to whom he had allegedly given the firearms, stating he did not want to cause his friend to have problems with law enforcement," the agent wrote.  Ramadan said the firearms were legally purchased and registered.
Then the story changed again.
"Ramadan also stated that he had made up the story about the self-storage unit," the agent wrote.
Records showed Ramadan had legally registered the Glock handgun, but investigators would soon find more weapons after agents linked Ramadan to a unit at Devon Self Storage on South State Road in Ann Arbor.
On Aug. 23, a federal magistrate judge approved a search warrant for the storage unit.  Inside, agents found two rifles and a handgun.  The rifles matched the description of firearms disclosed by Ramadan at the airport.
Also, agents found components of an AR-15 rifle and two semi-automatic handguns.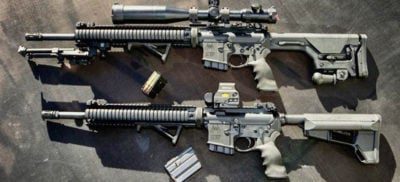 One great thing about the Trump administration is that these types of cases during the Obama years seem never to have been initiated, nor were they even encouraged. It seemed that we were more enthusiastic about protecting these people than prosecuting them.
Now that the FBI and ICE agents, law enforcement officers, and military personnel appear to have a man in the White House who respects them and gives them the tools they need to be successful, we are seeing a noted up-tick in arrests and investigations and I, for one, am happy to hear this.
Source: The Detroit Press
Deprecated
: Function get_magic_quotes_gpc() is deprecated in
/home/americanconserva/public_html/wp-includes/formatting.php
on line
4798