When former President Obama left office after the inauguration of Donald Trump, he wasn't dragged out kicking and screaming as some might have expected. Rather, he left quietly after giving some final instructions to all the holdovers from his administration that hadn't yet left or been removed from their jobs.
What instructions did he give them?
To create as much havoc and cause as many problems for the new president and his cabinet as they could get away with before they were discovered.
The latest Obama loyalist to be dismissed from her job was Federal Election Commissioner Ann Ravel.
As the Washington Free Beacon reported:
A Democratic Federal Election Commission official who pushed to regulate the internet and has been absent from public meetings for months is resigning, according to an announcement.
Ann Ravel, who wanted to regulate political speech on the internet from websites such as the Drudge Report, announced Sunday that she is stepping down from her post.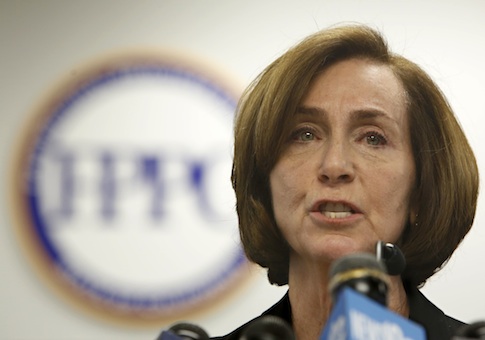 "It's been an honor to serve the FEC. I'm committed to transparency – here's my resignation letter to Donald Trump," Ravel tweeted on Sunday morning.
Despite Ravel's absence from the meetings, she attempted to call for a special meeting that would allow a vote on whether or not she could attend a foreign-funded junket to Ecuador to observe their elections.
After being contacted by the Washington Free Beacon seeking comment on the demand, Ravel's special counsel said that Ravel had reversed her decision to participate in the trip. If Ravel did not rescind her demand and the trip were approved, she would currently be in Ecuador.
Ravel was first appointed to the FEC by President Barack Obama in 2013 and chaired the commission in 2015.
Mad World News comments:
Of course, it didn't take long for Trump to see what the entitled brat was doing because, well, she wasn't doing a dang thing.
According to reports, Ravel had made it a habit to outwardly snub Trump at every chance she could. Furthermore, she had been trying to utterly disrespect the new president by missing all of her public meetings since early December – a clear dereliction of her duties.
Slowly but surely, President Trump is sweeping the last vestiges of Obama's parasitical employees from the federal payroll and with any luck, he might actually get all of the little cockroaches out before they can reproduce. And we all know that this surprising "resignation" is a farce – she knew she was days away from being sent a pink slip.
[playbuzz-item url="//www.playbuzz.com/elvinb10/is-donald-trump-unstoppable" info="true" shares="true" comments="false" recommend="undefined"]
This one was particularly offensive to all of us fans of free speech and we imagine that Drudge, Breitbart and many others are also glad to see her go!
Source: Mad World News