Deprecated
: Function get_magic_quotes_gpc() is deprecated in
/home/americanconserva/public_html/wp-includes/formatting.php
on line
4798
Deprecated
: Function get_magic_quotes_gpc() is deprecated in
/home/americanconserva/public_html/wp-includes/formatting.php
on line
4798
Deprecated
: Function get_magic_quotes_gpc() is deprecated in
/home/americanconserva/public_html/wp-includes/formatting.php
on line
4798
Deprecated
: Function get_magic_quotes_gpc() is deprecated in
/home/americanconserva/public_html/wp-includes/formatting.php
on line
4798
Deprecated
: Function get_magic_quotes_gpc() is deprecated in
/home/americanconserva/public_html/wp-includes/formatting.php
on line
4798
Deprecated
: Function get_magic_quotes_gpc() is deprecated in
/home/americanconserva/public_html/wp-includes/formatting.php
on line
4798
Deprecated
: Function get_magic_quotes_gpc() is deprecated in
/home/americanconserva/public_html/wp-includes/formatting.php
on line
4798
Deprecated
: Function get_magic_quotes_gpc() is deprecated in
/home/americanconserva/public_html/wp-includes/formatting.php
on line
4798
Deprecated
: Function get_magic_quotes_gpc() is deprecated in
/home/americanconserva/public_html/wp-includes/formatting.php
on line
4798
Deprecated
: Function get_magic_quotes_gpc() is deprecated in
/home/americanconserva/public_html/wp-includes/formatting.php
on line
4798
Deprecated
: Function get_magic_quotes_gpc() is deprecated in
/home/americanconserva/public_html/wp-includes/formatting.php
on line
4798
Deprecated
: Function get_magic_quotes_gpc() is deprecated in
/home/americanconserva/public_html/wp-includes/formatting.php
on line
4798
Deprecated
: Function get_magic_quotes_gpc() is deprecated in
/home/americanconserva/public_html/wp-includes/formatting.php
on line
4798
Deprecated
: Function get_magic_quotes_gpc() is deprecated in
/home/americanconserva/public_html/wp-includes/formatting.php
on line
4798
Deprecated
: Function get_magic_quotes_gpc() is deprecated in
/home/americanconserva/public_html/wp-includes/formatting.php
on line
4798
Deprecated
: Function get_magic_quotes_gpc() is deprecated in
/home/americanconserva/public_html/wp-includes/formatting.php
on line
4798
Deprecated
: Function get_magic_quotes_gpc() is deprecated in
/home/americanconserva/public_html/wp-includes/formatting.php
on line
4798
Deprecated
: Function get_magic_quotes_gpc() is deprecated in
/home/americanconserva/public_html/wp-includes/formatting.php
on line
4798
Deprecated
: Function get_magic_quotes_gpc() is deprecated in
/home/americanconserva/public_html/wp-includes/formatting.php
on line
4798
Deprecated
: Function get_magic_quotes_gpc() is deprecated in
/home/americanconserva/public_html/wp-includes/formatting.php
on line
4798
Deprecated
: Function get_magic_quotes_gpc() is deprecated in
/home/americanconserva/public_html/wp-includes/formatting.php
on line
4798
Deprecated
: Function get_magic_quotes_gpc() is deprecated in
/home/americanconserva/public_html/wp-includes/formatting.php
on line
4798
Deprecated
: Function get_magic_quotes_gpc() is deprecated in
/home/americanconserva/public_html/wp-includes/formatting.php
on line
4798
Deprecated
: Function get_magic_quotes_gpc() is deprecated in
/home/americanconserva/public_html/wp-includes/formatting.php
on line
4798
Bowe Bergdahl (and as a veteran, I refuse to call him by a rank he never deserved) deserted his post in Afghanistan without a word to anyone, causing a manhunt on a massive scale into some of the most dangerous regions of the world. Terrorists ran roughshod over local villages there and when they happened across a wretched American deserter, they captured him and supposedly tortured him.
During the time of his missing in action, multitudes of soldiers, some seriously concerned for his safety, health and well-being, were ordered out on or volunteered to be involved in search and rescue missions. On more than one occasion, soldiers were put into mortal peril because of the stupid, careless, and thoughtless actions of this man.
As he was brought up on charges of desertion and faced the death penalty, people wondered as to the wisdom of such a punishment. The answer to that is simple: If Bergdahl goes free and is dishonorably discharged, it telegraphs a message to all soldiers in the service that all they have to do if they get fed up with service is desert their post. It's a dangerous precedent. Now, there is a possibility in US Army circles that he may actually be receiving back pay for the times he was MIA. A total of 100 Congress members have just signed a letter urging the Army not to do so!
Independent Journal Review:
The controversy over the sentencing of convicted Army deserter Bowe Bergdahl rages, but there's one thing at least 100 U.S. Congress members agree on.
Bergdahl was recently sentenced to no additional prison time and a $10,000 fine for walking off his post. The Taliban found him, and Bergdahl spent the next five years as their prisoner.
In 2014, Military.com reported Bergdahl could receive "about $300,000 in back pay and special compensation" for being a prisoner. Now that the prospect of that is looking more real by the day, the congressional reps have written the military a letter to say no way:
Fox News reports the letter to the acting Army secretary "encourages" him not to award Bergdahl back pay because he admitted he'd deserted his post.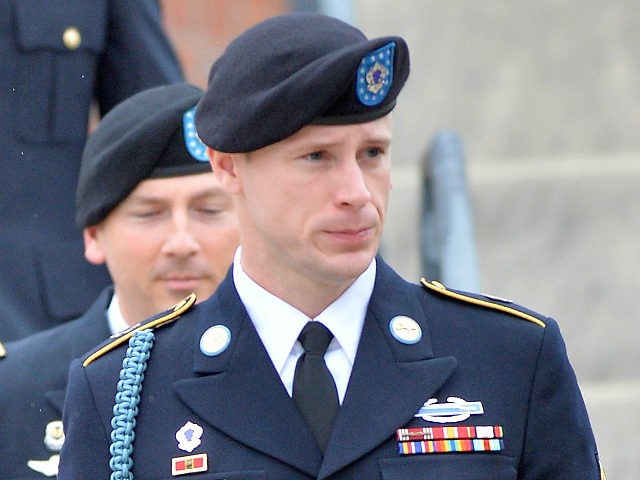 The signees said they were "happy" Bergdahl was back home but displeased with the circumstances behind it.
Their sentiments are shared by angry vets and others around the country, including Donald Trump Jr [who tweeted]:
"Are you kidding me? The white glove treatment this POS received is bad enough. More insults 2 those who died for him."
The Army Times reports it's possible Bergdahl might have to pay back his salary for a period of time he was imprisoned as well.
It's unclear when the decision about Bergdahl's back pay will be made. But no doubt, the new Army secretary may bring some heft to the decision.
President Trump's choice for Army secretary, Mark Esper, who worked for the defense contractor Raytheon, was just sworn in to his new office Tuesday.
It used to be that the point of raising your right hand and repeating the oath when you were accepted into the greatest fighting force on the planet that it was binding. It used to be that men and women were accountable to the highest degree of professionalism as a soldier precisely because they made a commitment.
Once, deserter Bergdahl committed to abandoning his post in an effort to skate on his contract with the government, there should have been no question that he gave up all rights for redress. If he is found to be deserving of this back pay, I can imagine an uproar in the Rightwing press. On the other side of the coin, the Fake News Industrial Complex will be firmly nodding in agreement with the Army and saying it was the "prudent and decent thing to do."
Source: Independent Journal Review
Deprecated
: Function get_magic_quotes_gpc() is deprecated in
/home/americanconserva/public_html/wp-includes/formatting.php
on line
4798