In their attempts to find answers to questions of whether there actually was Russian interference of our 2016 presidential elections and whether there was any collusion between Donald Trump's election campaign staff and transition team with the Russians, Congress will be interviewing one of former President Obama's ranking administration officials.
If she will agree to testify, that is!
Undoubtedly, she has a lot to hide, and even though Obama's former National Security Adviser Susan Rice has been subpoenaed, so far, she has refused to cooperate unless certain conditions are met. She refuses to meet in a public forum, and her one major demand is that she speak in a classified setting. Why? Something tells me it has to do with not implicating Barack Obama or revealing any of his deep state operatives still slithering around in the halls of the government.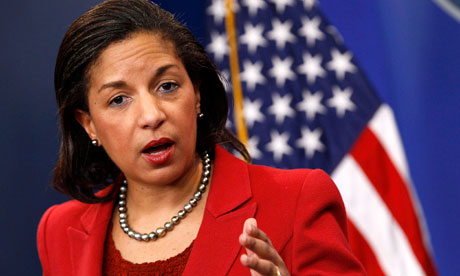 Via World News Politics:
Susan Rice is feeling the heat and she is starting to get nervous. After refusing to testify before Congress about her role in the unmasking of team Trump, Rice now will agree to appear on one shocking condition. 
Former National Security Advisor Susan Rice in a highly unusual move sent Congress a list of conditions they must fulfill before she will grace them with her presence.
Sen. Lindsey Graham said of Rice. "I'd like to ask questions of her."
"I have seen press reports — I don't know how accurate they are — that she was involved in the unmasking of an American citizen who was incidentally surveilled."
"I believe Russia tried to interfere in our election," Graham told CNN. "Did the Obama administration try to politicize intel? I don't know. I'd like to get the answer to both." 
Rice needs to testify and she needs to do it an open and honest manner. Not hiding behind a list of demands.
A letter from Rice's attorney makes it clear she will obstruct unless forced to comply. The lawyer wrote,
"Ambassador Rice is prepared to assist Congressional inquiries into Russian election interference because of the important national interests at stake," the letter stated, "provided they are conducted in a bipartisan manner, and as appropriate, in classified session."
And there it is, the democrats know they are in trouble and need the cover of other democrats to protect them from the consequences their actions. It won't work, justice for Rice will be served. 
And for Hillary and Obama for how they politicized our national security apparatus for their own personal gain. This is a major violation of our ideals and laws and we need answers. 
It would be great if Congress actually found something for which they could charge Obama, Hillary, and the rest of the slimy gang of desperados in the Democrat party. After all of the political theatrics we watched while Hillary was dodging and weaving her way out of a stint in prison for criminal negligence over her mishandling of classified emails, maybe you could pardon me for being skeptical that anything incriminating about the former president and his hellions from the underworld will ever see the light of day on mainstream television news.
Nope! It will all just be about Trump and his election staff colluding with the Russians for months to come! It's the new reality TV! 
Source: World News Politics