According to a Senate Intelligence Committee investigation initiated in 2012, Chinese companies that produced electronic parts for our military equipment, vehicles, and weapons systems were found to be sending us "counterfeit" parts, ones that were substandard in performance!
The committee investigated more than 1,800 cases of parts that were identified as being "counterfeit," amounting to more than 1 million parts that were considered below-performance. These were parts that are currently in use today in our own military.
After the guided-missile destroyer USS John McCain was broadsided this week with the tragic deaths of 10 sailors and 5 others injured, questions were raised. How could a merchant vessel oil tanker have "sneaked up on" a US Naval vessel without detection? Is it possible that these counterfeit parts were the gateway electronics for a cyber attack against the guidance and radar systems of the USS John McCain? Chief of Naval Operations Admiral John Richardson admitted there was no hard evidence of cyber-intrusion, but that he would not rule out the possibility!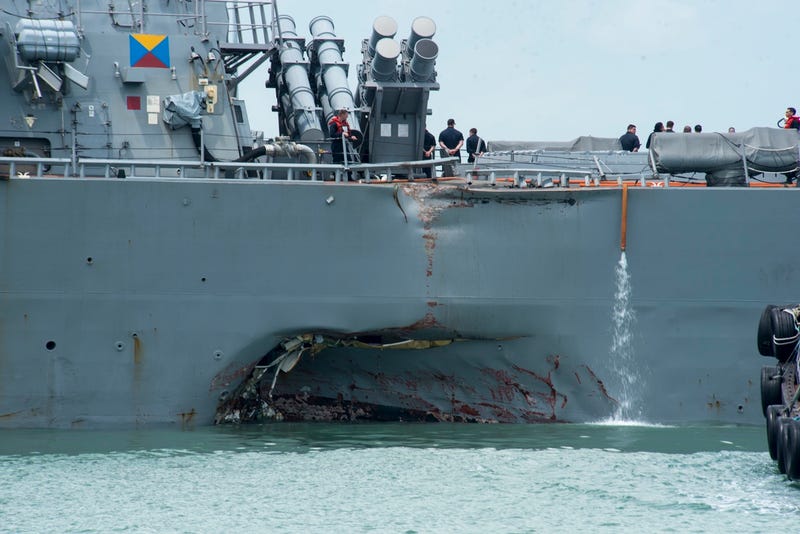 Conservative Tribune:
In the early Monday morning hours in the South Pacific, a guided missile destroyer of the U.S. Navy's 7th Fleet, the USS John S. McCain, was rammed in its aft port side by a merchant vessel, causing significant damage, injuring at least five sailors and resulting in 10 others declared as missing.
There has been some speculation that the collision was not necessarily an unfortunate accident, but instead could have been deliberate, the end result of a cyberattack on the navigation systems of one or both of the vessels involved in the incident.
And at a news briefing on Monday, one of the Navy's top officers left that possibility very open.
According to The Washington Times, Chief of Naval Operations Adm. John Richardson would neither confirm nor deny such speculation the briefing at the Pentagon, and though he stated that there was "no indication" the collision had been intentional, he also seemed to suggest that the Navy would be looking more deeply into it.
Asked about the potential for the collision to be deliberate as a result of a cyber meddling, The Hill reported that Richardson stated it was "certainly something we are giving full consideration to."
"We have no indication that that's the case, yet. We're looking at every possibility so we're not leaving anything to chance," he said.
Stars and Stripes also reported on a separate media briefing Tuesday on the incident held at the Changi Naval Base in Singapore, where Pacific Fleet Commander Adm. Scott Swift also addressed the speculation regarding a potential cyberattack on the ship.
With the heightened tensions between the US and China over the North Korean peninsula and its bellicose denizens, it is highly suspect that the coupling of a massive sale of substandard electronics parts and an unlikely collision of our naval vessel with a commercial vessel was evident. This is the fourth of these kinds of collisions in the last few years!
If the US has been duped into purchasing equipment that is directly responsible for dangerous conditions for our soldiers and sailors, perhaps it's time to begin pulling out of these trade deals with foreign countries and dealing specifically with our own Silicon Valley here at home.
Source: Conservative Tribune