Cracking down on illegal immigration is one of President Trump's top priority goals. Every time he makes an attempt to do so, he is usually met with another protest by illegals whose cause is defended by Liberals.
The real irony is that the Radical Left honestly thinks they're helping America by protecting immigrants who broke our laws when they entered this country illegally. But that point seems to escape them entirely!
Even though former President Obama deported immigrants, President Trump is forever being castigated for simply trying to reduce the number of illegals who already had criminal records for committing horrible crimes. Regardless, Trump will no longer tolerate these aliens' behavior, and has started an operation to shut these criminals down.
Breitbart reported:
Immigration officials arrested 61 criminal aliens during a targeted operation in Nevada last week. Those arrested include foreign nationals convicted of armed robbery, sex crimes, child abuse, assault, domestic violence, drug offenses, and previously deported aliens.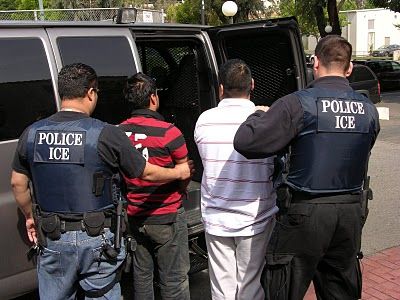 U.S. Immigration and Customs Enforcement (ICE) Enforcement Removal Operations (ERO) officers carried out a 5-day operation in Nevada. The goal of the targeted operation is to round up aliens with criminal records, prior deportation orders, illegal re-entrants, and immigration fugitives, ICE officials said in a written statement obtained by Breitbart Texas.
"ERO officers here in Nevada and around the country are focused first and foremost on using this agency's unique tools and authorities to help keep our communities safe," Nevada ERO Assistant Field Office Director Nikita Curry said in the statement. "Our enforcement efforts last week are representative of the work we've been doing and will continue to do."
Of those arrested, 90% had criminal records with offenses ranging from: various sex crimes, drug offenses, domestic violence, armed robbery, drunk driving, and identity theft. One of those arrested, an Iranian national living in Carson City, Nevada, has a record for illegal drug trafficking. A Salvadoran man living in Reno's record includes assault, battery, drug possession, and spousal battery, officials stated.
Officials emphasized the operation targeted criminal aliens deemed to be a threat to public safety. The operation also targeted those who re-entered the country illegally after being deported and immigration fugitives who previously received orders of removal from an immigration judge but failed to leave the country.
ERO officers may immediately remove those individuals who illegally re-entered the country after removal or who previously received orders of removal from an immigration judge, officials stated. Some of those may face prosecution for illegal re-entry after removal – a felony punishable by up to 20 years in prison. Officials will process the remaining criminal aliens for deportation.
It's nice to know that Trump is looking out for our national security by taking out these criminal scumbags looking for an easy mark in the United States!
Something that Barack Obama wasn't very concerned about.
Source: Mad World News