Apparently, there were all sorts of last minute contingency plans put into effect during the closing days of the Obama administration, to deal with the entrance of Donald Trump come January 2017. And these plans were sinister and deeply devised.
What we now are calling the "deep state" refers to secret operatives from the old Obama administration, or liberals who have been in the government system for years, who are still working undercover from within the Trump administration to undermine his agenda and to try and de-legitimize his presidency. 
But, you may think, how far could they go? They even went so far as to jeopardize the safety of President Trump when they removed security sensors from the fence!
The Washington Examiner describes an incident where an intruder scaled the fence and eluded secret service for 17 minutes:
The fence-jumper who wandered around the White House complex for 17 minutes was able to elude the Secret Service in part because the agency has taken down alarm sensors along an area of one fence that he scaled, according to two sources familiar with details of the incident.
The intruder, identified as Jonathan Tran, was able to jump over three different fences, including at least one between the Treasury Department and the east area of the White House complex shortly before midnight March 10.
Tran was able to scale that particular area of the fence without setting off alarms because they had been removed, leading to confusion among officers about his whereabouts and whether an intruder was inside the White House complex, the sources told the Examiner.
Squirrels and birds have been known to trip the sensors, which led to some confusion as to the level of concern that secret service should have had. Failing to reinstall the sensors after they were removed could have disastrous results.
Secret Service personnel removed the alarm sensors along an area of fence line when the agency raised its height in response to previous fence-jumping incidents as a way to make it harder to scale, the sources told the Examiner. Ironically, the very effort to prevent fence jumping appears to have permitted a particularly egregious intrusion.
One source said superiors in the Uniformed Division told Secret Service personnel to remove the sensors and piece them together for use elsewhere. They were never replaced.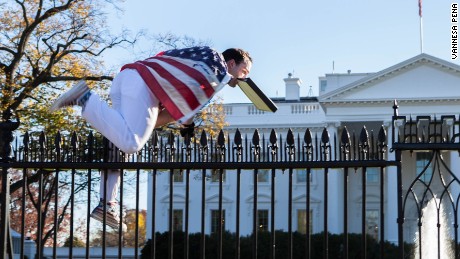 If one guy could jump the fence and elude secret service for 17 minutes, what could a few terrorists do armed with bombs and automatic weapons?
Things are getting serious and this threat needs to be addressed yesterday before tomorrow turns into a fulfillment of "White House Down!"
Source: Mad World News