Well, John McCain is back at it again.
He's been busy these past couple of months, finding ways to attack and undermine President Trump. He called Trump's mission to Yemen a failure. He slammed Trump when he presented his defense budget. He also made a secret trip to Syria to meet with the troops. You would think with all of the backlash he's received, he would change his behavior and continue with his work in the US Senate.
But what John McCain is demanding from President Trump right now is so ridiculous, I don't even know where to begin.
From Politico:
Sen. John McCain on Monday demanded the release of any evidence backing up President Donald Trump's claim that President Barack Obama wiretapped Trump Tower in the run-up to the presidential election, blasting the White House's refusal to answer additional questions about the matter.
McCain said the American people "have a right to know on what basis the president of the United States said that his predecessor had broken the law by wiretapping Trump Tower."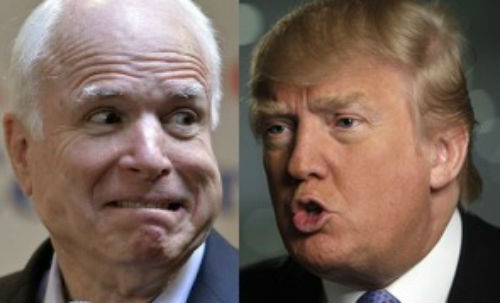 "I haven't seen anything like this," the Arizona Republican told reporters, explaining that the Trump administration "should answer questions."
"The American people should demand it," McCain continued. "The dimensions of this are huge."
He said his first reaction upon reading Trump's tweet on Saturday morning was "intense curiosity."
"This is unprecedented," he added. "I have never heard of a president of the United States accusing his predecessor or any other president of the United States of violating the law."
Senator Chuck Grassley has taken President Trump at his word and has already begun an investigation into the FBI and former Obama administration to find as much evidence as possible. What does McCain want? Trump to provide the evidence. Naturally, the alleged victim of the crime would have every piece of evidence available to them…what kind of a dream world does McCain live in?
Perhaps Senator McCain should join Senator Grassley in efforts to obtain as much information from the FBI as possible and review it to confirm or deny President Trump's claim. Maybe John McCain is still so upset that he couldn't beat Obama back in 2008 that he doesn't want to help any Republican president moving forward. If that is the case, he should simply retire from the US Senate and mope around his home in Arizona. Trust me, America would not miss this RINO one bit!
You can read more about McCain's antics here:
Source: Politico