Recall how Michelle Obama had planned to transform public education with her school lunch program? Like many ideas hatched in Washington, it didn't work well at all. In fact, the thing was a disaster as it appeared that the principle result was food being thrown in the trash by students who disliked the menu.
It takes a special sort of thinking to conclude that something like making out a menu for school lunches needs the intervention of Washington. What a slap in the face to local school administrators to suggest they are unable to figure out how to feed the kids without help from Mrs. Obama and the experts she anointed to take on this project.
The fact that the program was a failure has now been compounded by the fact that David Binkle, the expert chef Mrs. Obama called on to help design her school lunch program, has now been charged with embezzlement and misappropriation of funds. The allegations are that he committed these offenses in the very school district where he worked while operating under the very programs he designed.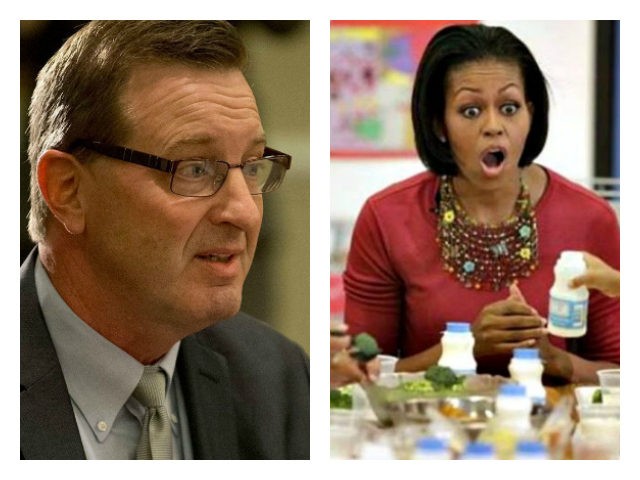 The L.A. Times reports that "[f]or years, David Binkle was hailed as a pioneer among school nutrition advocates for accomplishing a near-herculean task – using produce and meats provided by local growers to greatly reduce the number of fatty meals served in the nation's second-largest school district."
So Mrs. Obama called on Binkle to help her create her now defunct school lunch program.
"The initiatives won the district numerous awards, drew praise from then-First Lady Michelle Obama as she led a national push to combat childhood obesity, and earned Binkle appearances on Tedx Talks."
It turns out that Mr. Binkle was cooking more than just the food. It looks like he was cooking the books, too.
"But as he was revolutionizing meals for the district's students, prosecutors allege, Binkle illegally funneled roughly $65,000 of the district's money into a private consulting firm he ran, then placed some of that money into his own pocket.
"The 55-year-old appeared in court on Tuesday and pleaded not guilty to 15 felony counts including embezzlement and misappropriation of public funds. He posted $220,000 bail and is scheduled to return to court in October.
"According to court documents, Binkle repeatedly misappropriated district funds in amounts ranging from $5,000 to $15,000 between 2010 and 2014. Prosecutors also allege that he forged an application to become a vendor with the district and failed to disclose outside financial interests."
You have to wonder what would possess a man who is already making around $150,000 a year to pull a stunt like this. Sheer greed and a false sense of invulnerability, perhaps.
In any event, this is just one more embarrassing detail that attaches to Michelle's failed school lunch program. No doubt Michelle will not be commenting on this. If forced to, she would probably fall back on the Democrats' standard explanation for their failures: It's President Trump's fault. Or if that doesn't work, the Russians did it.
Source: Independent Journal Review, L.A. Times