Now that Trump's plan to repeal Obamacare has been successfully torpedoed by House Speaker Paul Ryan's totally unacceptable replacement referred to by many as "Obamacare Lite" (which was soundly defeated in Congress), it's time for Paul Ryan to take a well deserved vacation to Universal Studios in Hollywood. Right? WRONG!
In the meantime, Texas Senator Ted Cruz was busy stumping for fellow Kansas Republican, Ron Estes, who is campaigning for a seat in the Fourth Congressional District formerly occupied by Trump's CIA Director Mike Pompeo. Thanks to Cruz's efforts, Estes won!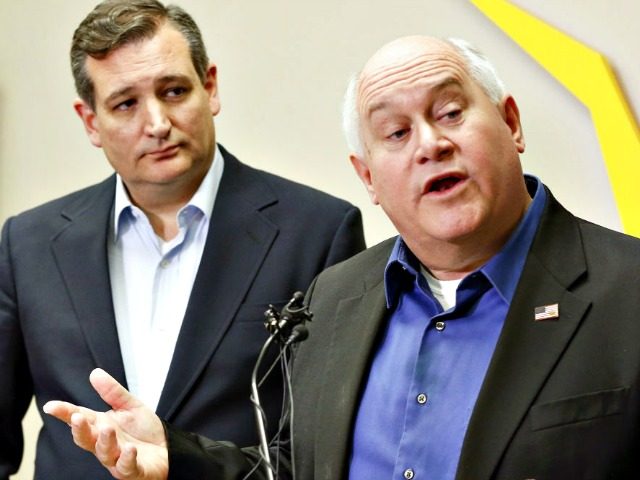 So, if you were living in Texas or Wisconsin, who would you rather have as your spokesman for your beliefs? 
Paul Ryan has been an outspoken opponent of President Trump, and it is believed by many grass roots Republicans that the time has come for his ouster as speaker of the House. As far as many conservatives are concerned vacationing at Universal Studios and away from the political arena is probably the best place Ryan could be.
Via Breitbart:
Sen. Ted Cruz (R-TX) "rallied Monday afternoon with about 200 [Ron] Estes supporters in a hangar stop near Eisenhower National Airport, the last major campaign event leading up to Tuesday's election," the Wichita Eagle reported in the closely watched battle to replace CIA Director Mike Pompeo in the Fourth Congressional District of Kansas.
Speaker Paul Ryan (R-WI), in contrast, is reportedly vacationing at Universal Studios in Hollywood.
"Our enemy right now is complacency," Cruz told the crowd of Estes supporters, as the Eagle reported:
Estes, the Republican state treasurer, is locked in a hard-fought battle with Democratic civil rights attorney James Thompson for the seat vacated by former Rep. Mike Pompeo. Libertarian Chris Rockhold, a flight instructor, is also in the race.
Cruz said Donald Trump's victory in the November presidential election was an "overwhelming cry from the American people to change the path we're on."
"That's the mandate we've been given with a Republican president and both houses of Congress," Cruz said.
"Cruz's visit was part of a full-court press by the national GOP to boost Estes' campaign in the final days," the Eagle noted.
The New York Times reported that the Kansas special election results could be a possible warning sign for the Republican Party.
Former Rep. Tim Huelskamp was critical of the priorities of the Republican House leadership in a tweet earlier this week, suggesting they were not doing enough to secure a special election victory in the Fourth Congressional District.
Most conservatives probably feel that Paul Ryan could just stay on vacation permanently. The Republican party already has one too many RINO Democrat party sympathizers!
Source: Breitbart