Everybody knows it costs bank loads of money to provide the basic necessities for refugees, and that is why we support Donald Trump's temporary travel ban, to ensure that those entering our nation's borders are vetted properly and are self-sustaining.
Few know the full extent of the financial burden upon taxpayers any significant resettlement will cost.
On top of the basics like food, clothing, shelter, healthcare, and education, there are administrative costs in keeping track of all the refugees, among other things. But do you know how much refugees have cost us? The number is astounding!
According to Breitbart:
American taxpayers will spend more than $4.1 billion in the 2017 budget to support the 519,018 refugees who have been resettled by the federal government in the United States since October 2009, according to a cost estimate by Breitbart News.
To put that very large number in context, $4.1 billion can buy 10,677 new homes for $384,000 each, which is the average price of a new home sold in the United States in December 2016. Or it could buy 170,124 new autos for $24,100 each, which is the manufacturer's suggested retail price for a 2017 Chevrolet Malibu.
Even if the Trump administration were to entirely shut down the flow of refugees into the United States in FY 2018 and beyond, the refugees who have already arrived in the country will cost at least another $3.5 billion in 2018, and about $2 billion to $3 billion annually thereafter until FY 2022 and beyond.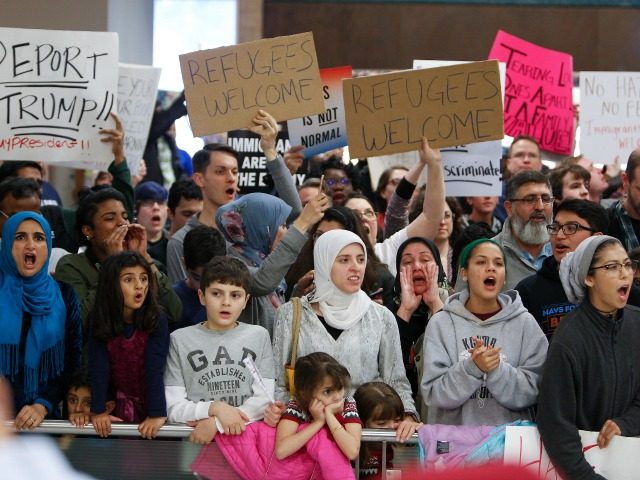 Breitbart was able to break down the costs of middle eastern refugee resettlement to American taxpayers for the first 5 years after their immigration to America:
The analysis that estimates a $4.1 billion annual cost of refugees is based on the same methodology and data used in a November 2015 study from the non-partisan Center for Immigration Studies (CIS), which concluded that "in their first five years in the United States each refugee from the Middle East costs taxpayers $64,370—12 times what the UN estimates it costs to care for one refugee in neighboring Middle Eastern countries."
The table below illustrates the breakdown:
The November 2015 CIS study calculated a dizzying array of twelve specific federal programs which provide direct and indirect financial benefits to refugees. Table 2 below, a truncated version of the same table that appeared in the CIS study, shows the amount of money the average Middle Eastern refugee receives from each of these twelve programs over their first five years in the United States, which totals $64,370.
Table 2: Estimated Five Year Costs For Middle Eastern Refugees Resettled in the US
Cost Category Use Rate Ave. 5 Yr. Costs($)
SSI 32.1% 5,414
TANF 36.7% 2,322
SNAP 91.4% 4,615
General Assistance 17.3% 624
Public/Subsidized Housing 18.7% 1,787
WIC 20.0% 130
School Lunch 33.3% 204
Medicaid 62.2% 21,450
Without Health Insurance 12.7% 1,234
Public Education 28.0% 17,361
Subtotal for Welfare, Uninsured, and Education 55,140
Bureau of Population, Refugees, and 4,433
Migration within State Department
ORR within HHS 4,797
Total Costs 64,370
However you want to look at it, refugee resettlement in America is costing American taxpayers a heck of a lot more than we should have the moral responsibility to pay for.
America can no longer afford to be the world's sugar daddy. And we need to continue to support Donald Trump and his efforts to keep America solvent!
Source: Breitbart