For those who are willing to look and be honest, every day brings fresh evidence of why we need the border wall and increased enforcement of the laws governing entry into our country. In fact, you have to deliberately choose to ignore that evidence since it's just that obvious.
Also obvious is that these illegals attempting to enter this country are not exclusively the poverty-stricken just wanting to get into America anyway they can. It also includes those involved in drug smuggling. If we are going to have drug laws, then it's clear that one way to support those laws is to stop the flow of illegal drugs into our nation. Hence, we are right back to the need for increased border security.
And that increased security ordered by the president is paying dividends. Ten drug-smuggling mules who also turned out to be illegals were just busted trying to smuggle almost 400 pounds of marijuana into the U.S. This was accomplished by U.S. Border Control agents who estimated that the marijuana had a street value of about $135,000.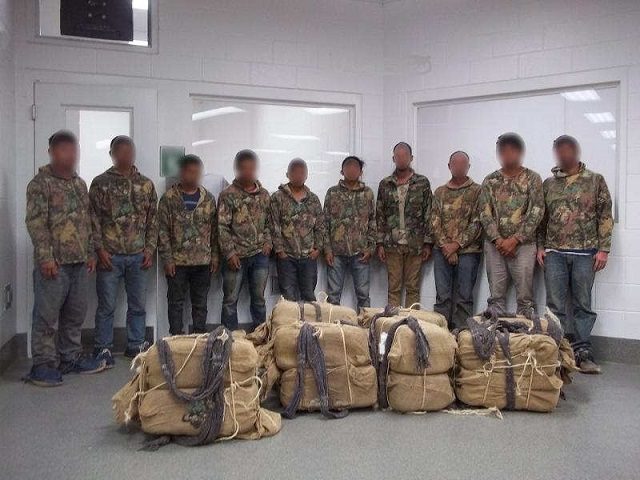 "Border Patrol agents in southern Arizona busted ten illegal aliens dressed in camouflaged jackets as they attempted to smuggle nearly 400 pounds of marijuana into the U.S.
"The agents, assigned to the Welton Border Patrol Station, began tracking a large group of illegal aliens just west of Gila Bend, Arizona on Thursday morning. The agents eventually caught up with the group and found them wearing camouflaged jackets and carrying heavy backpacks, according to information obtained from U.S. Customs and Border Protection officials by Breitbart Texas."
There's another tragedy here that is related to the smuggling of drugs. These cartels do not just smuggle drugs, they also smuggle human cargo as well.
"Breitbart Texas previously reported that illegal aliens often times work out their fees for being smuggled into the U.S. by carrying drugs for the cartels who regulate the flow of drugs and human cargo across the border."
This is an ideal situation for the drug cartels. They provide the transportation, and the illegals desiring entry to the U.S. carry their drugs for them in return for that transportation. Hence, those caught whose offense would have been illegal entry into the U.S., find themselves arrested on drug smuggling charges as well.
The degree to which we can stop the drugs at the border relieves pressure on law enforcement to deal with the illegal product as it is distributed throughout the country. Tightening border security is essential.
Source: Breitbart