President Barack Obama tried to give the illegal immigrants in the US blanket amnesty by saying Americans don't have the right to choose whom they will allow to immigrate and live here in America.
He used an emotional argument not based upon the facts, and he attempted to chastise Americans for being racists against people who broke our laws to get here. Illegals who had no legal right to stay.
But now, the path to citizenship through amnesty has been reversed by President Trump's DHS Chief John Kelly. He, who, after receiving approval from Attorney General Jeff Sessions, has rescinded former President Obama's Deferred Action for Parents of Americans and Lawful Permanent Residents (DAPA) program that granted amnesty to 4 million illegal aliens.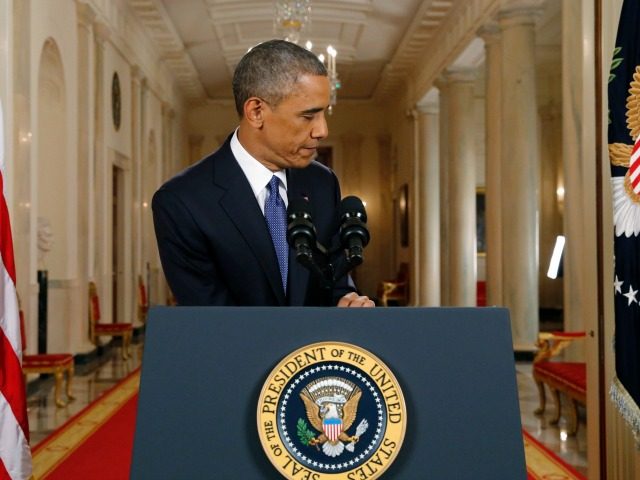 From Breitbart:
President Donald Trump's deputies have formally killed off President Barack Obama's final attempt to create a national amnesty for roughly 4 million illegal aliens, dubbed "DAPA."
Since 2016, the amnesty has been frozen by the courts, and the end was announced late Thursday by the Department of Homeland Security:
On June 15, Department of Homeland Security Secretary John F. Kelly, after consulting with the Attorney General [Jeff Sessions], signed a memorandum rescinding the November 20, 2014 memorandum that created the program known as Deferred Action for Parents of Americans and Lawful Permanent Residents ("DAPA") because there is no credible path forward [in the courts] to litigate the currently enjoined policy.
The DAPA amnesty policy had much support from Democrats and ethnic groups, who may ask judges to keep the amnesty alive.
The Obama amnesty memorandum did not carry the weight of law. It was only instructions on how Obama wanted immigration laws enforced:
Obama's DAPA amnesty was not a law, but consisted of Oval Office instructions to deputies that they should not enforce immigration laws against illegal aliens who had children in the United States, sometimes called "anchor babies," but must instead award work permits to the roughly 4 million illegal-alien parents.
Obama's DAPA promise of work permits for illegals was quickly blocked by a Texas-based judge, Andre Hanen, amid a lawsuit by a coalition of Governors and Attorneys General. The national GOP played little part in the lawsuit, titled United States v. Texas. The judge's order later was backed by a Supreme Court decision in June 2016, in which all four of the Democratic-appointed judges supported Obama's Oval Office amnesty.
We all got a little tired of hearing Obama preach to us on what America was, or wasn't, all about. His idea of America is radically different from those of us who actually love this country and want to preserve our traditions, customs, and borders.
Now that Obama is out and Trump is in, the things that made America great in the past may get an opportunity to do it again. First and foremost, the president is making a top priority of removing illegal immigrants from our country, and instead allowing legal immigrant to be properly vetted before entering into the country. And we applaud him for doing so!
Source: Breitbart