I can still recall the first time I heard John Conyers speak at a lectern after one or another flap about Republicans and thinking, "What an idiot!" Once I began to research the man, the myth, and the Fake News legend, I immediately realized why the Left consistently referred to the Representative as a "civil rights icon."
Buried deep in my psyche, I knew that there was more to the story than just that he was angry and engaged and meant to punish those in the GOP who were racists, supremacists, and Nazis. There was certainly something missing that I could not grasp.
As it turns out, I couldn't grasp it because I am not a woman. Had I been a woman and worked for the Congressman, I would have known that the so-called "civil rights icon" was also a serial misogynist. As many are now admitting, they knew all this for years, but remained quiet because of the perceived power that he held in his hands. Now, finally, some Democrats are demanding this War-on-Women advocate step down and resign!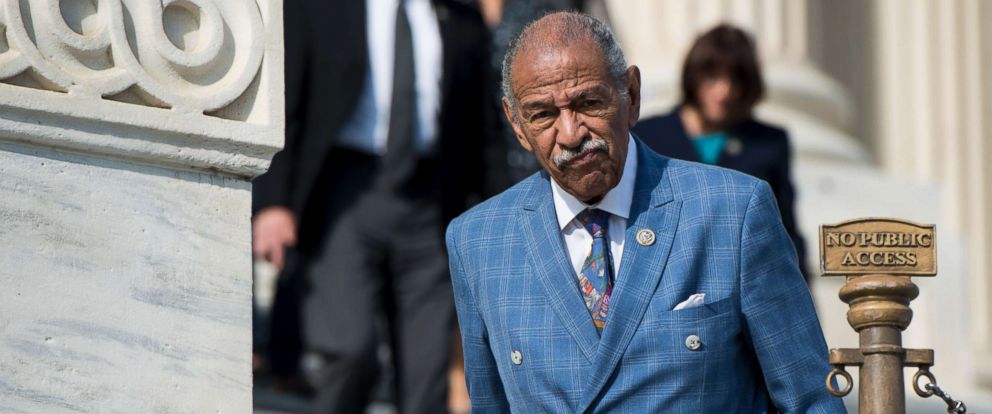 The Blaze:
Politico is reporting that members of the Congressional Black Caucus are pushing Rep. John Conyers (D-Mich.), a founding member of the powerful group, to resign over allegations of sexual harassment that have arisen in the wake of the Harvey Weinstein scandal rocking Hollywood.
A former staffer says that Conyers sexually harassed her on multiple occasions, including groping and inappropriate touching.
"I didn't report the harassment because it was clear nobody wanted to take it seriously," said the former staffer.  "John Conyers is a powerful man in Washington, and nobody wanted to cross him."
It was also revealed that Conyers paid $28,000 to a staffer that had accused him of sexual harassment.
Two Democratic members of Congress have already called on Conyers to resign — Reps. Kathleen Rice (D-N.Y..) and Pramila Jayapal (D-Wash.). In addition to those political figures, Politico reports that his own aides are advising him to make a hasty exit from his office.
"There is an effort to convince him to leave now," a Democratic aide told Politico. "They are telling him he needs to do this for his legacy and all that he has worked for over the years."
Conyers resigned his position as the ranking member on the House Judiciary Committee on Sunday.
House Minority Leader Nancy Pelosi (D-Calif.) initially defended Conyers as an "icon," but she changed her tune after a public outcry that was undoubtedly inspired by the anger over numerous sexual harassment allegations being revealed across American society.
It's about time that a Leftist in Hollywood, a Leftist in radio, a Leftist in the news industry, or a Leftist in politics is finally being told "no more" and asked to step down. By rights, there are by a very generous count, about 22 Liberal men who have been accused to date, with many of them very salacious and gratuitous, while only one Republican, Roy Moore, is being raked over the coals. Care to take a guess as to whom is in the headlines of the Fake News every single day?
When good is evil and evil is good and upside-down is right-side up, you've entered the 21st century in America where the Left is now glomming the title of serial misogyny, after decades of casting those very allegations in the direction of the GOP. Typical of the guilty.
Source: The Blaze