First, let me announce this loud and clear: Devin Nunes hasn't done anything wrong. The Democrats are doing their best to distract the world from the real truth when it comes to Russia and any possible illegal ties between Russia and Americans.
And let's be honest – we know that the illegal ties will be on the heads of Bill and Hillary – so the House Democrats are going to do anything they to protect their own. So it's easy right now to cry foul on Nunes, a Republican who is seeking the truth and made sure that President Trump knew what the truth looks like.
So because of whiny Democrats calling out Nunes for sharing important information with the president first instead of their committee, Nunes has decided to recuse himself. Although this is unnecessary, there is a silver lining: a leadership role in this investigation will now go to South Carolina Representative Trey Gowdy. This is indeed a win for all things good, true, and beautiful!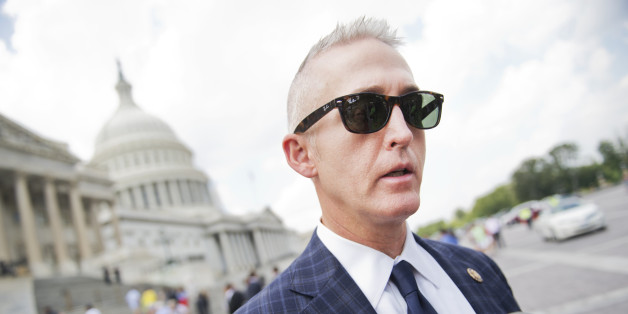 From The Greenville Online:
South Carolina Rep. Trey Gowdy will now be one of the top Republicans leading the House Intelligence Committee's investigation into Russia.
On Thursday Chair Devin Nunes, R-Calif., announced he was stepping aside in light of accusations filed against him in the Office of Congressional Ethics. Nunes called the charges "entirely false and politically motivated" but said it was in the "best interests" of the committee to have someone else take over.
Rep. Mike Conaway, R-Texas, will take the temporary lead on the investigation into Russia's alleged interference in the U.S. election. Gowdy, who represents Greenville and Spartanburg, will join Rep. Tom Rooney, R-Fla., in helping Conaway with the investigation.
"I believe it is in the best interests of the House Intelligence Committee and the Congress for me to have Representative Mike Conaway, with assistance from Representatives Trey Gowdy and Tom Rooney, temporarily take charge of the Committee's Russia investigation while the House Ethics Committee looks into this matter," Nunes said in a statement Thursday morning. "I will continue to fulfill all my other responsibilities as Committee Chairman, and I am requesting to speak to the Ethics Committee at the earliest possible opportunity in order to expedite the dismissal of these false claims."
Gowdy is also a member of the House Ethics Committee.
This is a huge win for Republicans. We know that Rep. Gowdy will lead the charge and do his best to get to the bottom of every accusation!
Source: The Greenville Online