Leftists like Senator Elizabeth Warren can never pass up a chance to make a point by trying to steal from the right, even when it's blatantly obvious that they're doing it.
Of course, Warren can't help herself since she's running out of good ideas after attempting to pass herself off as a "Native American" minority and failing miserably.
In a promotion for her new book, Warren crassly stole a phrase used by former Alaska Governor, Sarah Palin in a speech she gave during the 2008 presidential election.
The phrase, "fight like a girl" was intended by Palin to rally Wisconsin conservatives to fight against leftist thuggery from union members threatening a state government shut down over their possible loss of influence in Wisconsin politics.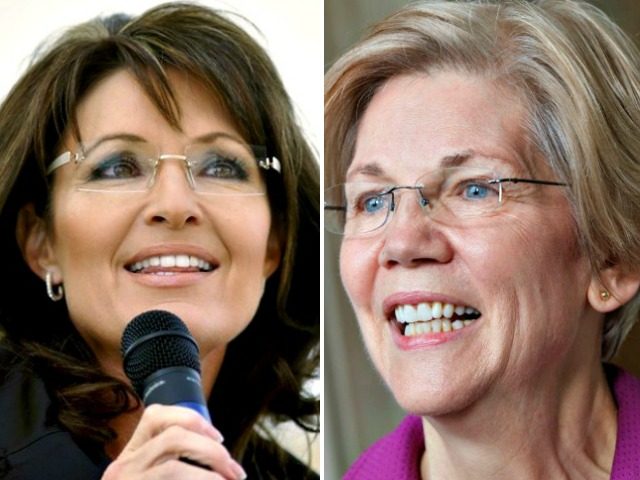 From Breitbart:
Sen. Elizabeth Warren (D-MA) tweeted "fight like a girl" to her followers Tuesday. She later used the same phrase in an interview with National Public Radio promoting her new book.
The line may seem familiar. It was a popular catch-phrase of a woman so-called "progressives" have loved to mock and reveled in ridiculing since her explosion onto the national political scene in 2008: former Alaska Governor Sarah Palin. Imitation may be the sincerest form of flattery, but when Governor Palin learned of Warren cribbing her line, she told Breitbart News, "I don't know. Coming from liberals who urge women to claim victimization, 'Fight like a girl' just doesn't sound the same as when legit fighters for equality say it, mean it, live it, and will never give it up."
Warren delivered the line electronically, standing beside the art installation "Fearless Girl," a copper figure of a small girl in a pouty pose. The little statue has caused a big stir on the left-wing since it was installed on Wall Street in front of the much more famous 1987 work "Charging Bull" by Italian artist Arturo Di Modica.
While supporters of the "Fearless Girl" see it as a symbol of feminist resistance to the greed of institutional finance, they might be surprised to learn the little statue was bankrolled by multinational finance giant State Street Global Advisors, the world's third largest asset manager with over $2.4 trillion — with a T— under its authority. State Street Global claims their motive in funding the addition was to promote its ongoing "Campaign for Enhancing Gender Diversity in Corporate Leadership Roles." Professional feminist activists, politicians like Senator Warren, and their friends in the mainstream media were quick to seize on the diminutive statue as an important symbol of female empowerment.
Palin's use of the phrase "fight like a girl" had a completely different purpose than Warren's:
 In more than a mere tweet, the self-described "hockey mom" belted the phrase out in front of the Wisconsin State Capitol in Madison, Wisconsin after thousands of public sector union members threatened to shut the state down over measures designed to curb their outsized influence in Wisconsin politics. She spoke to ordinary Wisconsinites after their refusal to give in to leftist thuggery yielded a historic victory.
Warren's cheap attempt to grab onto Palin's coattails simply made her appear that much more desperate to find an issue she can take point on and rally her female leftist allies to become even more radicalized than they already are.
If it's not minority issues, it's women's issues and Warren becomes more of a caricature every time we see her!
Source: Breitbart