So it looks like the subway system in New York City is falling apart. Where have we heard of this problem before? That's right. President Trump spoke of our nation's decaying infrastructure and the urgent need to rebuild it, although it's unlikely that the city officials in New York are going to mention that fact.
New York City relies heavily on its public transportation system, so a failure of the city's subway is no small matter. Fortunately the whole thing didn't collapse, but if one part is in trouble, it's likely that there are other trouble spots waiting to fail. This is what you get when you allocate government expenditures to immediate programs to keep voters happy while postponing serious needs in the hope you won't have to deal with them.
So what did New York Governor Cuomo do to address this problem? He declared a state of emergency. That's sure to get the trains rolling again and prevent future problems.
"Just days after a subway derailment in Harlem, Gov. Andrew Cuomo said Thursday that he will be signing an executive order declaring a state of emergency for the Metropolitan Transportation Authority.
"As CBS2 Political Reporter Marcia Kramer reported, Cuomo's declaration also came the same day commuters dealt with delays at both Penn Station and Grand Central Terminal all day.
"The Long Island Rail Road said 12 tracks were affected by Amtrak power problems Thursday. Service was on or close to schedule by the late night."
The nice thing about the state of emergency declaration is that it gives the governor something he can do on television so he can be seen taking action. The snag is that if things are really deteriorating with New York City's transit systems, the public might get tired of his regular appearance to sign yet another emergency declaration. They'd probably prefer the thing just work.
"The governor has also had enough. He made his announcement Thursday at the Genius Transit Challenge Conference, an international competition with a $1 million prize to come up with solutions to improve the transit system's reliability. He swooped into Manhattan from Albany on a helicopter for the occasion.
"Cuomo said the state of emergency will allow the agency to expedite funding and repairs to what he described as a rapidly decaying and dysfunctional system."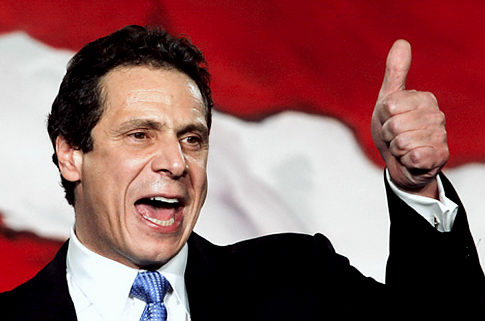 Note the drama. The governor "swooped into Manhattan" in order to make his pronouncement.
Forgive the cynical tone here, but a properly functioning commercial firm or even a competent government agency would have noted the deterioration which has been going on for years and have already taken action.
But then what reason would the governor have for his hero-like arrival in Manhattan?
Source: CBS New York