CNN has gotten into some very hot water over the last few weeks and both because of something they published and retracted, as well as over things that their staff has admitted to in hidden video excerpts by James O'Keefe's Project Veritas.
In addition to its many problems of  wrangling in its multitude of opinionated producers and celebrity "journalists," it apparently must also keep a very close eye on its editors as well. A recent scuffle over a tweeted video by Donald Trump showing him beating up Vince McMahon (of WWE fame) with the CNN logo superimposed over McMahon's face is classic trap-laying for the President, with CNN taking the bait.
To top off a tumultuous week of in-fighting with CNN, the president was speaking at an RNC event and was caught on audio stating that he was playing around with the idea of suing CNN for their fake news stories about him, and possible defamation over those stories.
The Daily Caller:
President Donald Trump said Wednesday night he has a "good lawsuit" against CNN while speaking at a private RNC fundraiser at Trump International Hotel in Washington, D.C.
CNN recently retracted a story from June 22 that claimed Congress is currently investigating Anthony Scaramucci, a member of the transition team's executive committee, as well as as fundraiser and adviser for the president's campaign.
"It's a shame what they've done to the name CNN, that I can tell you," Trump continued, "But as far as I'm concerned, I love it. If anybody's a lawyer in the house and thinks I have a good lawsuit — I feel like we do. Wouldn't that be fun?"
James O'Keefe, a conservative political activist, released an undercover video Tuesday, which showed a CNN producer claiming the Russia stories they have been reporting are "mostly bullshit" and that there is currently "no proof."
O'Keefe also posted a video of CNN contributor Van Jones saying the story of collusion between Trump and Russia is a "nothing-burger." Trump mentioned this at the event.
"Van Jones — you see this man?" Trump said. "These are really dishonest people. Should I sue them? I mean, they're phonies. Jeff Zucker, I hear he's going to resign at some point pretty soon. I mean these are horrible human beings."
Trump ended the speech thanking everyone present for their continued supported and fundraising efforts, which raised over $10 million for the RNC at the event.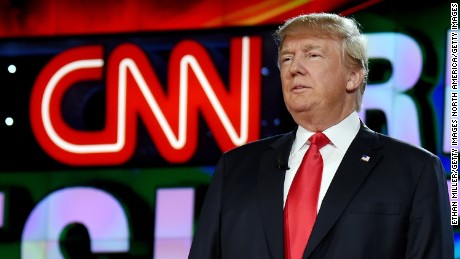 Clearly, Trump has been over the top in attempting to or threatening to sue his opponents in the media, as well as opponents in entertainment, from Bill Maher to Rosie O'Donnell. That doesn't change the fact that he's absolutely right when he says that what's become of CNN is a travesty.
On the other hand, it is also abundantly clear that these fake news stories being pumped out by the Leftist media in a 24/7 format and frequency appear to be helping the GOP. Perhaps we shouldn't worry too much about defamation, especially when it's resulting in a net gain for us.
Source:  The Daily Caller