A wreath laying ceremony is supposed to be a solemn occasion, where America's veterans who lost their lives in the service of their country are remembered and memorialized for posterity.
In this, we give thanks for their sacrifices and mourn their loss with a wreath of flowers to commemorate all lives given, so that we who remain can have the freedoms these veterans cherished and died for.
It is sad and terrible, however, when someone uses the event as an opportunity to commit a heinous offense. While President Trump was laying a wreath at Arlington National Cemetery to honor those fallen, a man sexually groped a child in the crowd. Now the FBI is searching for the perpetrator.
CNN explained:
The FBI is seeking information about someone who allegedly made "illicit sexual contact with a minor female" at Arlington National Cemetery on Memorial Day.
The bureau is seeking information about the unidentified individual — who the FBI described as a Hispanic male believed to be between 50 and 60 years old — in connection with an incident that occurred in the crowd during a wreath laying ceremony. An unnamed adult male allegedly "repeatedly inappropriately touched" the victim while standing in the crowd.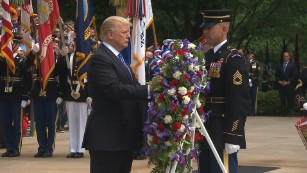 President Donald Trump visited Arlington National Cemetery on the holiday to honor the US service members who made the ultimate sacrifice. He was joined by Vice President Mike Pence, Chairman of the Joint Chiefs Gen. Joseph Dunford and Secretary of Defense James Mattis.
It is unclear whether the timing of incident coincided with Trump's appearance at the event. The FBI said the incident took place around 11 a.m. ET. Trump was scheduled to participate in a wreath laying ceremony around the same time.
The FBI said the man they are seeking information about has "short, spikey, grey and black hair," and wore a short-sleeved shirt and dark blue shorts at the time of the incident.
We cannot imagine why a person would take advantage of such an occasion as a wreath laying ceremony to satisfy a perverted fetish. This crime against a child was an incredibly brazen act committed right out in the open by a child sexual predator who showed no fear. Whether this was an attempt to embarrass President Trump, we have no way of knowing, but the guy who did it needs to get acquainted with a jail cell real soon before another innocent child is victimized.
Source: CNN