It's one thing to wish to practice your religion. It's another thing to deliberately break the law in so doing. And it's still another to use the rules of your faith that you choose to observe at the time to deliberately create a disturbance.
We've had enough of people making the ridiculous claim that they cannot reveal their faces for drivers license photos. Of course, that renders the whole thing pointless. It makes you wonder if these Muslim women would reveal their faces to a doctor to get emergency treatment for a facial injury or just let things take their course. No doubt they would find an exception to the rules for that.
The sign on the bank said, "Please remove: hats, hoods, sunglasses." This applies to everyone regardless of their faith or lack of faith. When a Muslim woman decided to willfully violate that rule, things did not work out as she would have preferred.
It begins as a Muslim woman named Jamela explained "that she was observing "Jummah," which is a special prayer held every Friday at the mosque, and she still had her "hood" on when she walked into the bank to pay a car note."
As a result, "an employee directed her attention to a big sign right in front of her that simply read, 'Please remove: Hats, hoods, sunglasses.' At first, Jamela complied and left the bank."
So far, so good, except she apparently was more interested in using her religion as a tool for creating a disturbance as opposed to any sincere desire to follow its teaching.
"As she explains, she went out to her car but soon returned wearing her hijab in order to instigate employees within the bank. Then, she whipped out her camera, knowing full well what was about to happen as she went back inside."
I went into Sound Credit Union in Kent, Wa to pay my bill as normal. The video above will show the discrimination that I faced today. I am a black Muslim woman and was observing Jummah, so I had my hood on. The teller asks me to "take off my hood". In order to adhere to their policy, I ran outside to get my hijab. When I came back, two men before me were served with no issues, but both were wearing hats. Then I confronted the teller and he told me "it should be no issue, let me get my supervisor for permission,". Instead of seeking a resolution, she chose to do this…watch the video. I never want this to happen to anybody and NOBODY should ever be treated this way. Thank you.Sound Credit Union KIRO 7 News Komo 4 TV The Seattle Times Kent ReporterACLU Nationwide CAIR-Washington State Seattle King County NAACP

Posted by Jamela Mohamed on Friday, May 5, 2017
Unfortunately for her, she ran into a banker named Suzana who was not going to put up with the obvious provocation. "She asked Jamela to leave before giving her a simple countdown, starting from the number three."
She was run out of the bank, then got into her car sobbing about how she had been discriminated against. The snag is that there had been no discrimination. She put on the hijab to start trouble. That wearing the hijab meant little to her as regards her faith was evidenced by what she did next.
"[O]nce inside her vehicle but still quite visible to anyone passing by, she had absolutely no problem removing her 'oh-so-important' hijab while she continued recording herself, knowing full well it was about to be posted for the world to see."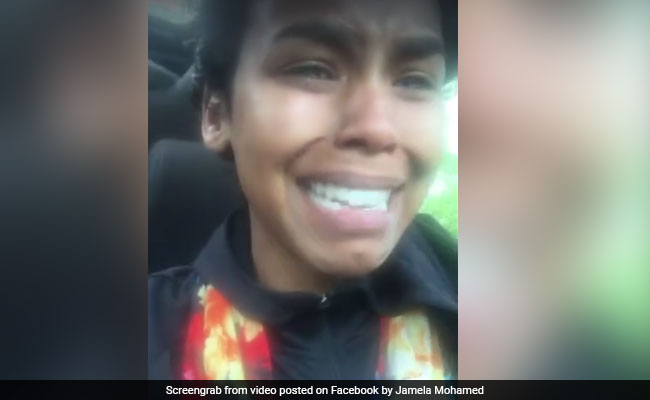 So was it important to her to allegedly follow the rules of her faith by wearing the hood or the hijab? Obviously not. These were just tools to be used by this woman to create a religious issue. By her own actions, she failed, proving that Islam was to her way to stir up trouble, apparently devoid of any spiritual significance.
How many more like that are out there?
Source: Mad World News