The Trump administration has an interesting assortment of opponents with which to contend, some a bit more civil than others, but all forces with which his team will need to battle. Without attempting to make a complete catalog, we can identify a number of the players that will be the most prominent.
Beyond the expected resistance to his agenda from the Democratic party, he also faces a largely hostile mainstream media, as well as numerous organizations whose objectives conflict with his. All of this is to be expected as no one promised Mr. Trump, or any other president, smooth sailing. Unfortunately, there are some non-traditional opponents who are prepared to raise their objections through violent means.
We've seen the violent protests that coincided with President Trump's inauguration, disgusting displays of lawlessness that have largely abated. There remain others, however, who are intent on making their point using illegal means. One such individual just pulled off a stunt that, fortunately, got him arrested.
Education Secretary Betsy DeVos is, like others, a cabinet pick who has stirred up some controversy. In fact, "Protests against Betsy DeVos, Trump's appointed U.S. Education Secretary, made national headlines after a group physically stopped the woman from gaining entry into Jefferson Middle School Academy in Washington, D.C." The protests were not particular effective since she just entered the school using a different door and continued with the plans unimpeded.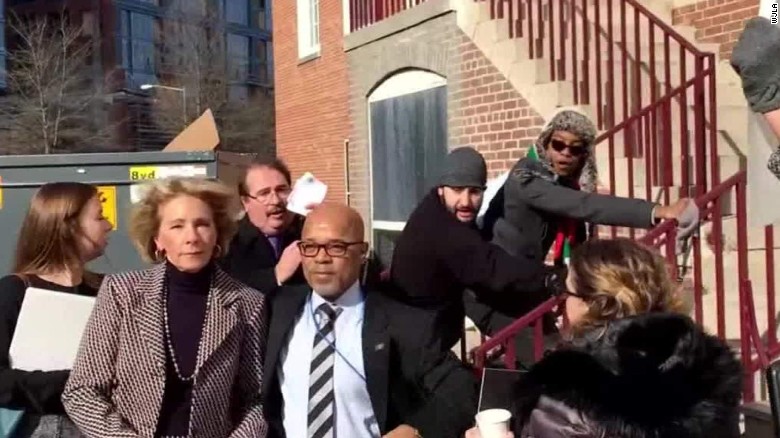 One violent protester was, "Bilal Ahmed Askaryar, a refugee from Afghanistan, who decided to get physical. According to reports, Askaryar was given 'several lawful orders' to move out of the way of a vehicle but didn't, and then, he pushed an individual only identified as 'V-1.'"
Details of Askaryar's arrest included the charge of, "'impeding/assaulting US government cabinet member,' indicating that Askaryar may have actually assaulted DeVos herself." Continuing with the story, "He was swiftly arrested and is now facing charges of misdemeanor assault and failing to obey an officer."
You can watch part of the protest below:
While we do not know how Askaryar arrived in America, we once again we have evidence that the left has deluded itself when it diminishes the risks of freely admitting into the country those from nations plagued with terrorism.
And if they think that it's only conservatives who need to worry about this sort of thing, well, they've just deluded themselves again.
Source: Mad World News