Back during Operation Desert Storm, Iraqi forces were not above placing arms and ordnance inside schools and mosques, knowing full well that Americans had a particular weakness when it came to children and religion. They used the opportunity of our humanity to take advantage of a way to safeguard their own munitions.
Equally, it was al-Qaeda forces that made a habit of using children to don suicide vests and wander up to American convoys or foot patrols in order to kill our soldiers. Despite the warning from higher-ups that the enemy was deploying children with bombs, American soldiers simply could not help themselves and broke ranks only to fall victim to the cowardice of the Muslim extremists.
In Africa, Boko Haram, which shares a strong bond with al-Qaeda, has taken its queue from the Middle East terror group and has begun employing the use of children in its deadly missions. The difference here is that Nigerian families are literally donating their own children to the cause and ensuring that Boko Haram continues to kill indiscriminately across the African nation!
The Daily Caller:
Some Nigerian families are donating their children to extremist terrorist group Boko Haram to carry out suicide missions against the country's military, the country's army said in a statement Saturday.
Nigerian Army spokesman Sani Usman pleaded with local parents to discontinue the practice as the terrorist group continues its deadly insurgency. "It was discovered that most of these hapless minors were donated to the terrorist sect by their heartless and misguided parents and guardians," Usman said.
"The acts of these parents and guardians are not only barbaric, but condemnable and unacceptable," the spokesman added.
Boko Haram has pioneered the use of mostly female suicide bombers in its insurgency against the Nigerian government, frequently kidnapping or cultivating young girls into the practice. At times the group has been known to deploy pregnant women as decoy suicide bombers.
Boko Haram at one point held the moniker of the world's most deadly terrorist organization, killing nearly 7,000 people in 2015 and became internationally notorious after it abducted nearly 300 young girls from a Nigerian school.
The group maintains tenuous connections to the Islamic State, although it traces its roots to an al-Qaida aligned Nigerian Islamist militia.
"Nigerians have a responsibility and obligation to collectively mould our children and wards and define a better future for them rather than condemning them to death by the criminal Boko Haram terrorists and their sympathisers through suicide bombings," Usman said in his announcement.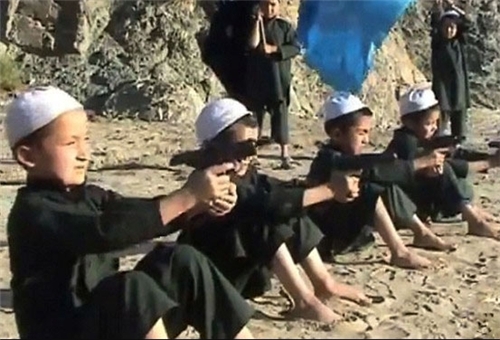 It is certainly one thing for the enemy to target innocent people, but to add on top of that the deliberate use of innocent children as valueless things who will be blown to bits for the glory of a truly demonic cult, is evil in its purest form.
The fact that these families are giving up their children to this horrible and tragic fate is even more disturbing when one considers that this terror group continues to pile up its dead and the dead of innocents without a single victory in sight. Their irrelevant crusade continues to register no sympathy nor victory and these children are dying for a cause that values only death and destruction.
Source: The Daily Caller