Julie sounds like such a beautiful name. When people think of Julie Andrews, they think of the Sound of Music or Mary Poppins. Or the very funny Julie Brown and her irreverent comedy and pop songs designed to do nothing more than entertain and make people laugh. Then there was Cat Woman supreme, Julie Newmar. Without a doubt, these Julies made us laugh, smile, and enjoy life.
In this day and age, we really need a good laugh, or a kind word, or a very honest person to just stand up to political correctness or brash and disgusting behavior and speak our minds without the danger of having their head bitten off by identity politics. The Julies above weren't about being rude or gross. But then there's Julie Briskman.
Who's Julie Briskman, you ask? She is a woman who worked for a government contractor in Virginia who happened to be cycling one day as President Trump's motorcade was driving by and opted to show him…not respect for the office, not a funny face, nor even a little wave. She opted to flip him the bird! However, her boss had the last laugh!
The Political Insider:
The woman who posted a photo of herself giving the middle finger to President Donald Trump's motorcade to social media has been fired from her job, The Huffington Post reports.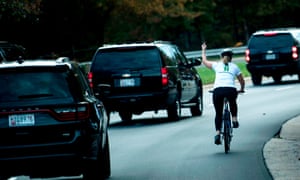 As Trump returned from the Trump International Golf Course in Leesburg, Va., Sunday, Oct. 29, a woman later self-identified as Julie Briskman, made the rude gesture to the president's motorcade twice as she was cycling on the same road.
According to the pool reporter on duty that day, "POTUS's motorcade departed the Trump National Golf Club at 3.12pm, passing two pedestrians, one of whom gave a thumbs-down sign. Then it overtook a female cyclist, wearing a white top and cycling helmet, who responded by giving the middle finger."
"The motorcade had to slow and the cyclist caught up, still offering the finger, before turning off in a different direction. Motorcade is now gathering speed and heading for DC."
At the time, Briskman was working for Akima LLC, a Virginia-based company that holds several government contracts, doing marketing and communications work. As the photo went viral with users calling her a "heroine," Briskman's bosses called her into a meeting Tuesday and gave her the bad news.
"They said, 'We're separating from you,'" Briskman told The Huffington Post in an interview, describing the firing.

"Basically, you cannot have 'lewd' or 'obscene' things in your social media. So they were calling flipping him off 'obscene.'"
As a government contractor, Akima LLC was concerned that the photo might hurt their ability to win government contracts, The Huffington Post reports. Briskman has no regrets about her gesture, and is even a little pleased she had the chance to make a statement.
"In some ways, I'm doing better than ever," Briskman said. "I'm angry about where our country is right now. I am appalled. This was an opportunity for me to say something."
"He was passing by and my blood just started to boil," Briskman said. "I'm thinking, DACA recipients are getting kicked out. He pulled ads for open enrollment in Obamacare. Only one-third of Puerto Rico has power. I'm thinking, he's at the damn golf course again."
So, reminiscent of the whole "Bush lied and people died" theme has come back again. When Hurricane Katrina happened, you'll recall that some on the Left actually, literally believed that Bush had "steered" the hurricane toward New Orleans to kill Blacks in the community. This Puerto Rico concern wasn't there when they were without power during the Obama years.
As for the DACA recipients, they aren't being kicked out…yet…and of course, the whole ObamaCare debacle that is still punishing the middle class and the formerly insured was built on a lie and carefully constructed to destroy the entire insurance and medical industry in order to bring it under government control. Julie is either delusional or she's far-Left. Most likely, she's both.
Source: The Political Insider