We know that the Democrats have had one goal in mind since President Trump took office: IMPEACHMENT. Take Maxine Waters for instance. This woman has been after Trump since before his inauguration to have him impeached.
As for the Republicans, they themselves are guilty of holding their collective breath and crossing their fingers, hoping beyond hope that something…anything breaks in the way of bad news for our president. They despise his brashness, his popularity, and above all his outsider mentality of draining the Swamp. That is the one real big driving force behind attempting to shut down his every move. And they've done a wonderful job so far.
Now, in an effort to stem the tide of losses and incredible embarrassment over Hillary's colossal failure to unseat Donald Trump, Tom Steyer, a billionaire from California who has been in the back pocket of Barack Hussein Obama and Hillary Clinton for as long as the Democrats have been avoiding paying their taxes, has decided to launch a $10M campaign imploring Republicans and Democrats in Congress to begin impeachment proceedings against Donald Trump!
Independent Journal Review:
Billionaire Tom Steyer has launched a $10 million campaign pushing members of Congress to impeach President Donald Trump, according to CNN reporting.
The Democratic hedge fund manager released an ad last week, which is running on broadcast stations in select markets, calling Trump a "clear and present danger."
In the ad, Steyer urges lawmakers to "stop doing what's political and start doing what right" and file articles of impeachment against Trump.
"A Republican Congress once impeached a president for far less. And today, people in Congress and his own administration know that this president is a clear and present danger who is mentally unstable and armed with nuclear weapons," Steyer says in the ad.
Steyer writes on the campaign's website: "Donald Trump has brought us to the brink of nuclear war, obstructed justice, and taken money from foreign governments. We need to impeach this dangerous president."
The California billionaire is no stranger to politics. Steyer spoke at the 2012 Democratic National Convention, blasting then-Republican presidential nominee Mitt Romney for not releasing his full tax returns.
"I think Mitt Romney and I share an income bracket, although I guess we're never going to know for sure," Steyer said.
Steyer's push for impeachment comes as the president continues to clash with Republicans in the Senate.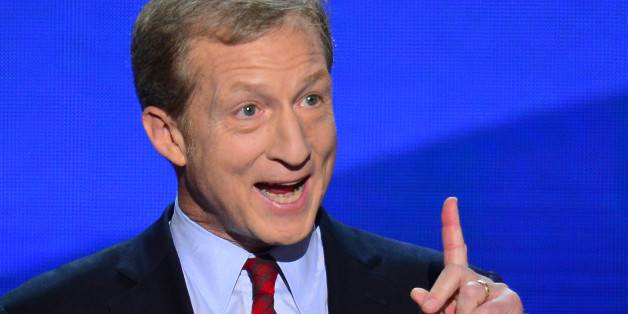 When it comes to brains, again, you apparently don't have to have much in that department in order to become a billionaire…Steyer pretty much proves that point. He is calling for Trump to be impeached because he has brought us to the brink of nuclear war (by the way, not an impeachable offense), obstructed justice (still attempting to find where that was proven) and taken money from foreign governments (again, those pesky things called evidence and facts appear to be lacking in this arena of allegations).
If we're being honest (and it seems we're the only ones who are), Steyer's calls for impeachment will undoubtedly fall on deaf ears, as he is apparently completely devoid of any captivating reasoning as to the true importance of the Constitution. This is why you can't just accuse someone of doing something without evidence because you've been told by the Fake News Industrial Complex to hate him.
Source: Independent Journal Review