I'm going to be 100% honest here: I am not a Grammys, Golden Globes, or Oscars watcher. Give me some football, college basketball, or Fox News any day.
But after watching Ms. Joy Villa pull an amazing Katniss Everdeen, and transform what was expected to be a low-key white ensemble to an amazing, positive, political statement about Trump!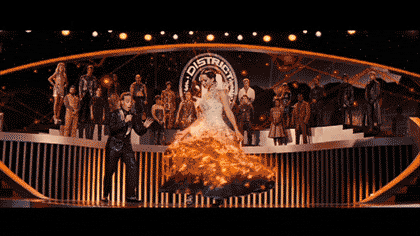 And boy, did her dress pay off, BIG TIME!
From The Political Insider:
Everyone is talking about all the political statements made during last night Grammy Awards. But the most shocking and surprising of all was singer Joy Villa, who wore a pro-President Donald J. Trump dress. The bold dress said in vertical letters "Make America Great Again" and the train said "Trump."
Villa isn't well known, but hours after she wore her dress, her album "I Make the Static" has skyrocketed in sales on Amazon. Once ranked at #543,202, it is currently ranked at #3 in the "Movers and Shakers" categories. That means she's selling more albums than Beyonce today. Amazing!
Who knew that the Trump Effect would enter the very biased, far left political world of the Grammys and create a positive effect for this singer?!
Source: The Political Insider