It's been said that politicians make strange bedfellows, and that is true. While we clearly do not see all of the machinations that go on behind the scenes, occasionally something rears its head that makes us pause and wonder what is going on.
We're not talking about obvious absurdities, such as Senator John McCain being unable to figure out to which political party he owes his loyalty. Nor are we referring to Senator Bernie Sanders, who often behaves as though he has no connection to any party, except perhaps to some fringe Marxist group that might exist somewhere, or perhaps only in his imagination.
Right now we have the extraordinary spectacle of Senator Dianne Feinstein, a liberal Democrat if there ever was one, supporting an investigation into the actions of former Obama Attorney General Loretta Lynch, in particular whether she used her official position to help Hillary's campaign. What in the world is going on here?
The Hill gives us the story:
"Sen. Diane Feinstein (D-Calif.) said Sunday that Congress should investigate whether former Attorney General Loretta Lynch pressured former FBI Director James Comey to cover for Hillary Clinton's presidential campaign.
"'I think we need to know more about that,' Feinstein told host Brianna Keilar on CNN's 'State of the Union.'
"'And there's only way to know about it, and that's to have the Judiciary Committee take a look at that,' Feinstein, the top Democrat on the Senate Judiciary Committee, said."
Wow. Clearly Feinstein is not concerned about being on Hillary's gift list.
The interview continues:
"Comey testified last Thursday that he felt 'queasy' after Lynch asked him to characterize his probe into Clinton's emails as a 'matter,' rather than an investigation. He told the Senate Intelligence Committee that such a request would match the wording of Clinton's campaign.
"Feinstein, who is a member of the Senate Intelligence panel, said she would've also felt queasy.
"'I would have a queasy feeling, too, though, to be candid with you,' the longtime Senate Democrat said.
"She added that an investigation separate from the ongoing probe into Russian interference in the election is needed."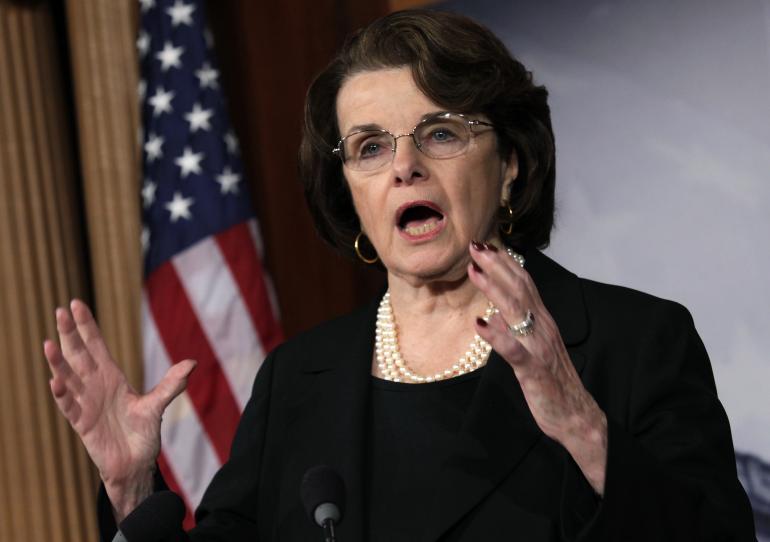 Comey is in trouble. Lynch is in trouble. Bill and Hillary are always in trouble. And Senator Feinstein is turning the screws on them.
And to make matters even more bizarre, taken at face value, we would agree with Senator Feinstein that former Attorney General Lynch needs to be investigated.
It's a strange world. And we're not in Kansas anymore, Toto.
Source: Gateway Pundit