It was a huge story back a few months ago where intelligence agencies from across the world were arguing about whether or not Abu Bakr al-Baghdadi, the leader of ISIS forces in Syria had been killed in an airstrike by Russians near the city of Raqqa. The Russians had claimed that it was a done deal and the Assad-friendly Syrian forces soon parroted those claims.
Then there were reports that were surfacing by many other different sources that seemed to be rather skeptical of the claims. From Canadian and English forces to humanitarian aid workers to United Nations observers, they all claimed that al-Baghdadi was not yet confirmed dead and they could not corroborate the Russian and Syrian announcements.
Now the American military intelligence community has finally weighed in on this controversial subject. Lieutenant General (that's a three-star general) Stephen Townsend, commander of the coalition forces in Syria, has announced that they now have enough evidence compiled to suggest that al-Baghdadi is, in fact, still alive!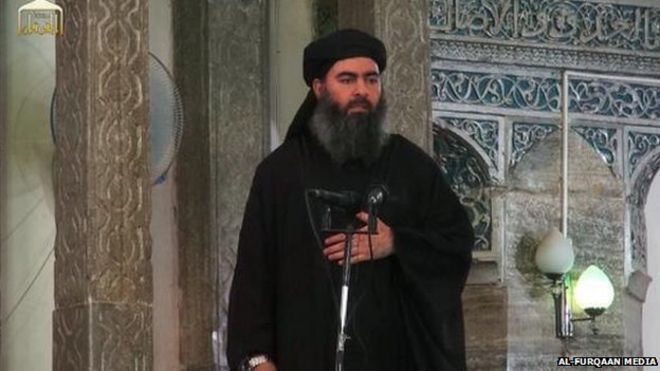 Breitbart:
Islamic State group leader Abu Bakr al-Baghdadi appears to be still alive, a top U.S. military commander said Thursday, contradicting Russia's claims that it probably killed the top counterterror target months ago.
"Do I believe he's alive? Yes," said Army Lt. Gen. Stephen Townsend, who commands the coalition forces fighting IS in Iraq and Syria, referring to al-Baghdadi.
At first, Townsend said his belief stemmed from a lack of evidence he had seen — "rumor or otherwise" — that al-Baghdadi was dead. But, he then added: "There are also some indicators in intelligence channels that he's alive." Townsend did not elaborate on the intelligence.
Russian officials said in June there was a "high probability" that al-Baghdadi died in a Russian airstrike on the outskirts of Raqqa, Syria, a month earlier.
Speaking to reporters at the Pentagon from his headquarters in Baghdad, Townsend said U.S. and coalition forces are actively searching for al-Baghdadi. If they find him, they probably will kill him rather than capture him, he said.
A good guess about where al-Baghdadi is hiding, Townsend said, would be the so-called Middle Euphrates River Valley, stretching approximately from the city of Deir el-Zour in eastern Syria to the town of Rawa in western Iraq. He said this area is shaping up to be the group's "last stand" following its ouster from nearly all of northern Iraq.
He credited the Trump administration with putting greater trust in him and other commanders to execute the counter-IS campaign.
"The current administration has pushed decision-making down into the military chain of command," Townsend said. "And I don't know of a commander in our armed forces that doesn't appreciate that."
"A key result of that is that we don't get second-guessed a lot," he added. "Our judgment here on the battlefield in the forward areas is trusted. And we don't get 20 questions with every action that happens on the battlefield and every action that we take."
Now that the military commanders are getting the needed funding and proper levels of personnel, they are thankful for the trust of the administration in their on-the-ground conditions reports and confident that this hands-off approach to their governance of all things military has been a big part of their success.
With safety being a 100% thrust in the Middle East, it's no wonder that there is such an effort to determine if al-Baghdadi is still alive. Chances are, he had his fingers crossed this whole time, hoping and praying that he would remain "dead" in the eyes of the West. Oh, well…so much for hoping and praying.
Source: Breitbart