Illegal immigration is an ongoing and serious problem for both the border agents who must patrol and secure the border and the immigrants constantly risking their lives to get here.
The measures that smugglers use to sneak other human beings across the border are varied and costly for the impoverished migrants, even to the point of the illegals losing their lives in the attempt. Smugglers have no concern for the safety of their human cargo, especially if it means getting caught and going to prison.
A truck used to haul grain was chased down by border agents, when a K-9 alerted its handler to a suspicious situation. 14 illegal immigrants were discovered in the cargo area hiding under a tarp.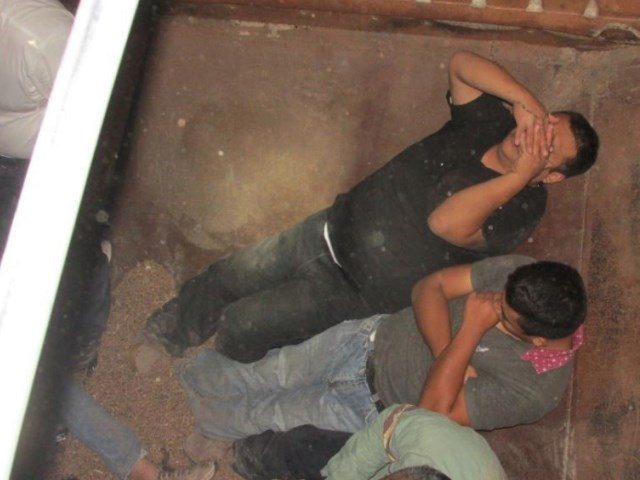 Breitbart elaborates further:
U.S. Border Patrol agents assigned to the Falfurrias Checkpoint chased down a grain hauler and discovered 14 migrants inside. The driver refused to submit to a secondary inspection and attempted to evade the agents.
The Rio Grande Valley Sector (RGV) agents observed a grain hauler approaching the Falfurrias Checkpoint in Brooks County, about 80 miles north of the Mexican border with Texas. A K-9 agent alerted to something unusual about the truck. Agents directed the driver, a U.S. citizen, to move the truck to a secondary inspection station for further examination. Instead, the driver proceeded north, leaving the checkpoint, according to information provided to Breitbart Texas by Border Patrol Supervisory Agent Marlene Castro.
Agents pursued the truck, and the driver eventually stopped without incident. A search of the trailer by the agents revealed 14 illegal immigrants in the cargo area. The alleged human smuggler covered the immigrants with a tarp in an attempt to hide them from view.  Castro did not provide information about the nationality of the 14 migrants.
Agents arrested the driver and seized the truck and trailer. He is being turned over to federal prosecutors where he will likely face charges of human smuggling.
According to Castro, many illegals have lost their lives attempting to make the crossing in that section of the border:
Castro issued a warning to migrants about attempting to circumvent the Falfurrias Checkpoint. Many illegal immigrants lost their lives while trying to march around the inland station.
Breitbart Texas reported extensively about the deaths of migrants in Brooks County. In 2016, Border Patrol agents and Brooks County Sheriff's Deputies recovered the bodies or remains of 61 people who died after being abandoned by their cartel-connected human smugglers.
The truth is, America has made it too easy for illegals to attempt the trek through treacherous areas for a small chance at a better life. We need either a border wall or a massively beefed up border patrol force to stem the flow, or America will have an even larger problem with a burgeoning foreign welfare population and no money to pay for it.
Source: Breitbart