Congress is going to, once again, take up their investigation on whether or not President Trump was involved with Russia in tampering with the 2016 election.
Of course, we Americans know that this is nothing but a gimmick from the Democrats to blame the loss of the presidential election on anybody else than Hillary Clinton. But the Republicans want to ensure everyone that they've done their research, and they are hopeful that if there was any Russian interference with Americans, that they find the true culprit.
So in the next few days the House Intelligence Committee and the Senate Judiciary Committee will be interviewing some key players. One of whom will be FBI Director James Comey, who has been more of a hindrance than a help in this particular case. Perhaps he could play a part in these Russian election shenanigans?
From The Washington Examiner:
The House Intelligence Committee has invited current and former heads of intelligence and law enforcement agencies to testify next month for its probe into Russian meddling in the 2016 presidential election even as the panel's chairman's credibility has been damaged for alleged bias in the very same investigation.
The committee announced Friday that it had sent out two letters on Thursday, one inviting FBI Director James Comey and National Security Agency Director Admiral Mike Rogers to appear at a closed hearing on May 2; the other inviting former CIA Director John Brennan, Director of National Intelligence James Clapper and former Deputy Attorney General Sally Yates to an open hearing also on May 2.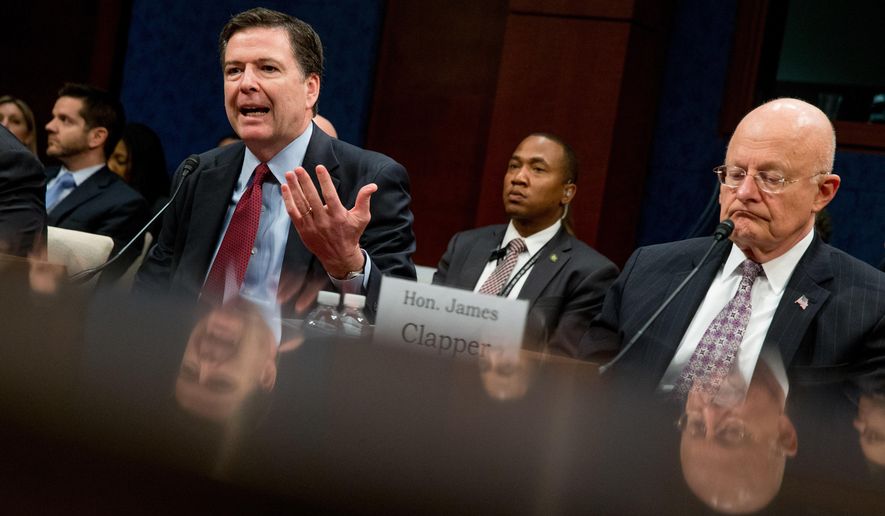 You think tomorrow is going to be a rough day for Comey? See what else is on his schedule this week.
From NewsMax
FBI Director James Comey will testify before a Senate committee next week and the hearing will likely focus on the bureau's investigation into potential ties between President Donald Trump and Russia.
The Hill reports that Comey will answer questions before the Senate Judiciary Committee on May 3. The hearing is called "Oversight of the Federal Bureau of Investigation," an annual exercise that allows Congress to check in with the nation's top law enforcement agency.
The topic of discussion, however, will most likely be Russia.
Comey has been to Capitol Hill twice this year, in January and in March, to testify for committees digging into Russia's involvement in last year's U.S. presidential election. He has also met with lawmakers on the Senate Intelligence Committee for closed sessions to talk more on the matter.
Next Wednesday's session could include questions about Carter Page, a former Trump campaign aide who is alleged to have had an improper relationship with the Russians — a claim he denied.
All we can hope for this week is that James Comey finally works with both sides of Congress to getting the truth out. Otherwise, it's time for President Trump to drain this swamp slug.
Source: NewsMax, Washington Examiner