It seems so long ago that 9/11 occurred and it's easy for us to forget the horror and to grow complacent and passive, but the threat is there, hiding just below the surface of society. We hear about the events in Europe that have occurred with some frequency, we read about the Scandinavian nations and their bowing down to the Leftist globalist ideal of one government worldwide, and how they've suffered because of their total obeisance to this deadly agenda.
We also have our own domestic terror episodes crop up here in the United States while the Fake News Industrial Complex remains mostly mum on any that stories that happen to be accompanied by an Arabic name, while trumpeting on the front pages about Charlottesville for weeks on end. And so, we continue to believe that we are mostly aloof from these incidences and that these problems only happen in other places.
Authorities have discovered right here in the heart of Brooklyn, yet another Islamic-based terrorist who was planning on filtering money through clandestine means to his favorite charitable organization: ISIS! Abror Habibov, an Uzbeki man living here in the states decided that beheadings of innocents in the Middle East was much more preferable to an obliteration of the Caliphate of terror.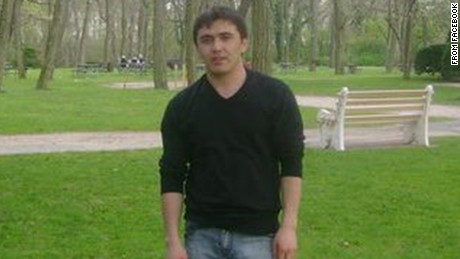 NY Daily News:
An Uzbeki man living in Brooklyn copped to charges that he tried helping a cohort make his demented dreams of waging international jihad into reality.
Abror Habibov pleaded guilty Tuesday to agreeing to bankroll a ring of ISIS sympathizers and wannabes who planned for Middle East mayhem but never made it out of New York.
Brooklyn federal prosecutors said Habibov — who operated a string of mall kiosks from Florida to Pennsylvania — pledged cash to Akhror Saidakhmetov, a Brooklyn resident from Kazakhstan, so he could buy a ticket to Turkey.
Saidakhmetov bought a $571 round trip from John F. Kennedy International Airport to Turkey, which was set to leave February 2015. The plan was to continue on to Syria.
Habibov also repeatedly promised money so Saidakhmetov could get a firearm, court papers said.
Authorities arrested Saidakhmetov at the airport. It's not clear if Habibov's cash came from his kiosk business.
Habibov admitted to conspiring to provide material support to a terrorist organization and conspiracy to use a firearm. "While doing these things, I knew it was illegal," Habibov said.
He faces up to 35 years in prison.
There is a concerted effort on the part of Leftists to pretend that we've nothing to fear from radical Islamists and that is the real danger. To be vigilant is not to be racist or bigoted. Are we to believe that caring for our families and our children's safety, for our friends and co-workers, is a bigoted, racist act? That law-breakers are supposed to be treated with respect and as having more rights than law-abiding citizens?
If the Left is looking for reasons why they are losing elections, over and over, and repeatedly losing debates in the arena of ideas, they need look no further than their abhorrent advocacy of this disgusting agenda; a narrative that tells average Americans that they must lower their defenses and accept whatever consequences may come for the sake of calling this a free nation. It's shortsighted, ludicrous, and (more than anything else) EXACTLY WHAT THE ENEMY WANTS US TO DO.
Source: NY Daily News