Border patrol agents have their work cut out for them.
Not only does our US Customs and Border Protection agency have to keep a close eye for drug and human smugglers at border checkpoints, but they also have to complete routine checks at places like bus stations.
Recently, two illegal immigrants tried to smuggle in nearly half a million dollars worth of heroin hidden in caulking tubes in their luggage aboard a Greyhound bus. Border Patrol agents apprehended the two illegals at a California bus station along with 19 packets of heroin.
From the Daily Caller:
Authorities caught two illegal immigrants attempting to smuggle nearly half a million dollars in heroin Wednesday hidden in caulking tubes at a California bus station.
U.S. Customs and Border Protection agents conducting routine checks of identification at a Greyhound Bus Station in Blythe, California made the arrests after finding two Mexican men in violation of their immigration status. Concealed in caulking tubes stuffed inside their luggage, agents found 19 packages of heroin, reports the Associated Press.
Authorities seized more than 20 pounds of heroin and estimate the total value of the haul at more than $400,000. The unidentified men face immigration and narcotics charges, but authorities are not yet releasing specific information on the case.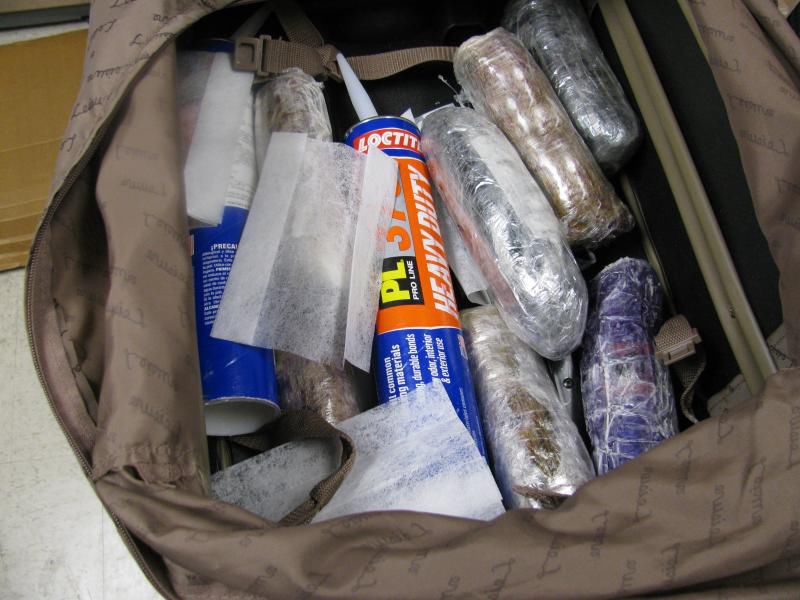 The relentless efforts of drug cartels and domestic traffickers continue the steady flow of fatal narcotics into America's cities, fueling overdose deaths throughout the country. Heroin claimed nearly 13,000 lives in 2015 and officials estimate more than 90 percent of heroin in the U.S. is flowing in from Mexico.
Smugglers are never at a loss for ingenious new ways to smuggle in the deadly drugs.  Thank goodness we have well-trained agents who are able to locate and stop these smugglers from bringing such terrible substances into our country.
Hopefully, as the Border Patrol continue to stop drugs from entering our country, those on the southern border wanting to cross over illegally will take the hint and stop trying. Of course, a border wall will also help that problem.
We continue to cheer for President Trump and our Border Patrol agents in making our country safe! Do you support our president and border patrol? Comment below!
Source: The Daily Caller