The left has not been having a good time of it for close to a year. What liberals saw as political bliss under the Obama regime, has turned into their worst nightmare with the defeat of Hillary at the hands of Donald Trump and his supporters. Even Hillary was stunned and dumbfounded by her defeat. She now wanders the nation peddling her book that purports to exonerate her from any responsibility for the political 100-car pile-up that the 2016 election represented for her and her party.
To add to their problems, the left has thus far been unable to make any of their allegations against President Trump stick. The Mueller inquisition into alleged Russian collusion with the Trump campaign has succeeded so far in only in spending copious amount of government money. The Trump Train continues on track, impeded more by disloyal RINOs than by what the Democrats have been able to pull off.
In the meantime, the Democrats are beset with scandals. Liberals must be aghast at the revelations of alleged sexual misconduct by Hollywood bigwig and major supporter of all things on the left, Harvey Weinstein. This is a huge story, and has sent the left into either denial, or attempts to sweep it all under the rug. Those are strategies that will fail, a fact that became even more obvious as we learned that Mr. Weinstein has just been fired by the very firm that he helped found and that bears his name.
"The Weinstein Co. board of directors has terminated Harvey Weinstein, effective immediately, less than a week after the New York Times published a report alleging decades of sexual harassment allegations against the Hollywood super-producer and Democratic party donor.
"'In light of new information about misconduct by Harvey Weinstein that has emerged in the past few days, the directors of The Weinstein Company […] have determined, and have informed Harvey Weinstein, that his employment with The Weinstein Company is terminated, effective immediately,' TWC's board of directors said in a statement released Sunday."
To be fired by the very company that you founded has to be humiliating. Yet that's nothing compared to the humiliation that Mr. Weinstein should feel from the lurid stories that have destroyed any belief that this man was a champion of the feminist cause, or even of decent treatment of women. He has disgraced the left, and they must be furious.
The New York Times, that bastion of support for liberal causes, apparently believed it could not ignore something this big, and blew things wide open with its recent report on Mr. Weinstein's conduct. Outraged, Weinstein has threatened to sue.
"Weinstein had hired high-powered attorney Charles Harder, who won a $140 million settlement for Hulk Hogan against Gawker, before the Times story broke. But hours after the story went to print, Weinstein vowed to sue the paper for $50 million over what he called its "reckless reporting" and "inability to be honest with me" about the term of an alleged previous agreement."
There's the lawsuit as expected. Now check out this pathetic attempt to excuse his abusive and revolting behavior toward women.
"Weinstein has denied wrongdoing but apologized for the 'pain' he has caused in a statement to the Times.
"'I admit to a whole way of behavior that is not good. I can't talk specifics, but I put myself in positions that were stupid, I want to respect women and do things better,' Weinstein said, vowing to change."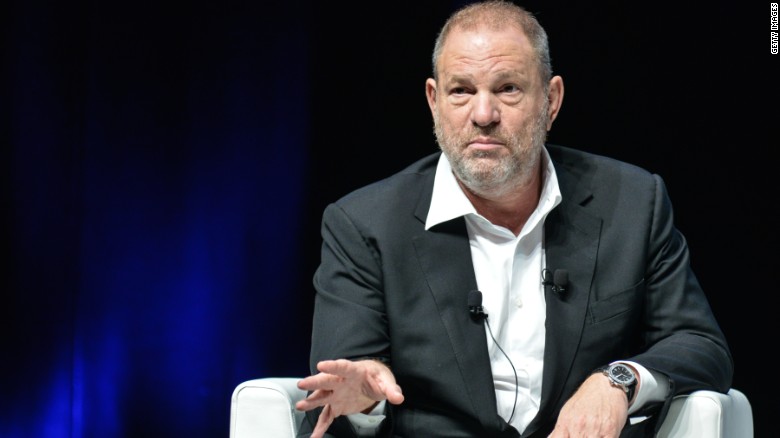 Weinstein grovels like he's a schoolboy caught in a prank. As if his alleged transgressions were not bad enough, his attempt to minimize their seriousness coupled with promises to do better illustrate what a weak, sad excuse for a man he really is.
As the women come forward with their stories, Democrats are getting rid of the money he donated, recognizing how toxic those contributions are to their careers. If there is any humor in all of this, it lies in their attempts to be surprised to learn of Harvey's behavior. In other words, the campaign contributions were great as long as no one else found out what Harvey was really like.
"The story and the allegations in it caused several Hollywood actresses to call out Weinstein. A growing number of Democrat Party lawmakers have promised to return or donate the mass amounts of money Weinstein had donated to them over the years."
With his money he is able to hire the best and most powerful legal staff available. So it remains to be seen what punishment the legal system delivers to this degenerate.
However, the real damage has been done. Mr. Weinstein has committed an unforgivable sin by demonstrating that dedicated liberals can abuse women. Thus, he is now a persona non grata where he used to be feted as a great luminary and beneficiary of the left. He has been ignominiously fired by his own company.
Suddenly, Harvey has to be feeling very alone in his misery. It's his own personal hell he created for himself.
Source: Breitbart